What 'The Office' Can Learn From 'American Idol'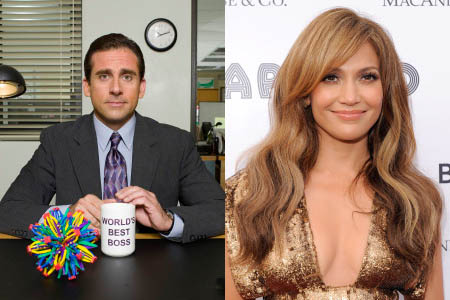 NBC, Jemal Countess/Getty Images
After being considered an all but sure-thing to replace Ellen DeGeneres as a judge on the upcoming season of American Idol, a new report says that Jennifer Lopez is no longer in the running for the job. The source says that the deal fell through due to her demands, and so the high-profile search for the show's new judges continues.
This isn't the only major casting search going on this summer. With Steve Carell set to leave The Office at the end of next season, NBC is putting feelers out for an actor to fill the Dunder-Mifflin job opening.
But the latest twist in the "who will place Simon and Ellen" saga only highlights the how different TV's two biggest talent searches have been—and what The Office can learn from the higher-rated show.
American Idol is the country's Number One series. Last season's finale averaged 24.2 million viewers—the lowest number since the show's first season, but still good enough to top the weekly ratings. That low-point came at the end of a much-maligned season in which many critics argued that the reality series was beginning to show its age. When Cowell announced his departure, some wondered whether Idol could survive. But his exit, and the search for his replacement, may be the best thing that could've happened to the nine-year-old series.
At its core, American Idol is a singing competition, with a rotating cast of stars each season: the Kelly Clarksons and Justin Gaurinis, the Reubens and Clays, the Lee Dewyzes and Crystal Bowersoxes. The Simon-Paula-Randy-Kara-Ellen crazy train is really just a sideshow supporting the main act—the singers. Changing out one or two judges doesn't deter talented vocalists and musicians from auditioning for the show. They turned up last year, despite Paula Abdul's departure, and 24.2 million viewers showed up each week too. There would be no reason to think that because Simon Cowell or Ellen DeGeneres won't be critiquing the contestants that the contestants won't be just as compelling, or that viewers would give up on the show altogether.
On the other hand, Steve Carell is the star of The Office. It's almost unfathomable to fans and critics that the show could continue without the antics of Carell's Michael Scott driving the plot—and the comedy—each week. The series has fleshed out some of TV's most beloved supporting players, particularly with the romance of Jim and Pam or the absurdity that is Dwight, but the general consensus is that a show centered on any of those characters would be far too grating and one-note. Since NBC has decided, as of this point, not to end The Office when its biggest stars leaves, the network is now not just looking for a new actor, but a new leading character for the show.
So NBC is replacing what could be considered the basis for its entire show—Michael Scott as a dumb boss—whereas Fox is really just reconfiguring a small part of its series—a few members of its judging panel. This is where Fox has been particularly genius. No matter who they get, the main dynamic of Idol will still be in place: singers singing and judges judging. But they've managed an unreal amount of press surrounding the casting of the new judges. It's been talked about nearly every day, with each new week bringing a new crop of A-list names that are rumored for the job. Huge stars like Justin Timberlake, Elton John, and now Lopez have been in the news next to American Idol, creating an invaluable amount of buzz leading into the show's tenth season. Regardless of who ends up sitting in those judges chairs, the numbers for the show's premiere are going to be huge. Fox has turned a minor show re-tooling into fodder for what might be its highest-rated season yet.
On the other hand, unlike Idol, The Office is hardly a ratings juggernaut. Steve Carell is the show's most visible star, but he still only manages to bring in around 7 million viewers each week. And whereas Idol's gotten significant mileage out of press prognostication over Cowell's replacement, coverage of Carell's exit has been primarily focused on the decision and whether the show should end—not so much on who would replace him. It was never thought that Idol would end when Cowell left; it's so highly rated, of course it would continue on. But The Office is struggling with viewers, making Carell's last season a seemingly perfect time to end the series. There have been leaks of actors who are being courted by NBC to replace him—most recently Rhys Darby and Danny McBride—but little is being said about it beyond "why bother."
Back in 2000, Michael J. Fox decided to leave Spin City. It was a situation very similar to The Office right now: the sitcom had enjoyed moderate success, due mostly to its soon-to-depart star. Brilliantly, ABC cast tabloid mainstay Charlie Sheen to replace Fox. The decision was controversial and intriguing—and because of that successful. The series ran for two more years, garnering awards attention for Sheen. It's really the only case The Office can look to as an example; if NBC is going to replace Carell, they need to do so with someone as news-friendly as Charlie Sheen was (and is). That's not going to be an actor like Rhys Darby, but a divisive personality...someone like Jennifer Lopez. If there's one thing American Idol is getting right in this casting process, it's that the people they are considering are tailor made for piquing national interest. If The Office hopes to pull a Spin City, they could take a lesson or two from the singing competition. J. Lo selling paper, anyone?