The Weirdest Album I'm Most Looking Forward To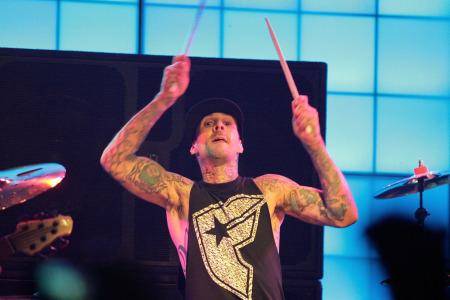 Noel Vasquez/Getty Images
Travis Barker has not had a particularly easy decade. His marriage broke up spectacularly, he survived a plane crash, only to have one of his best friends who survived along with him become a casualty in the aftermath. So the drummer in sort-of-maybe-still-extant Blink-182 probably has a fair bit to say, and it seems like he's gotten together a pretty ridiculously talented group of people, mostly hip-hop artists, to help him say it on his upcoming debut solo album.
I tend to think that despite the fact that they consistently got pretty good critical reviews, Blink-182 is unfortunately sidelined as an only semi-serious band. When I was in high school, their music functioned as a kind of musical Babelfish, providing imperfect but extremely useful translation for what the guys I knew were thinking. And they were more than just a sincere expression of adolescent angst that demanded those emotions be taken seriously. "
I Miss You
" is a great expression of romantic grief at any age.
More specifically and relevantly, I also feel like the debate over whether Meg White was the greatest drummer of the aughts or a weird star hitched to Jack White's undeniable talent made all other discussions of drummers uninteresting. But Barker's a good, strong, punctuational drummer. It'll be fun to see him do the spare, minimal stuff that's been so prevalent in hip-hop, and to stand out against richer instrumentation and flow too.