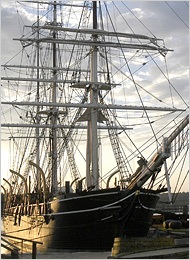 I want to flag this cool story from the Times on the effort to renovate, and ultimately sail, the world's last wooden whaling ship, the Charles W. Morgan, which was built in 1841. For 80 years, the Morgan sailed the high seas "in pursuit of leviathans," as the Times puts it, before eventually dropping anchor at Mystic Seaport in Mystic, Connecticut, where is still sits today. To imagine what seafaring life was like then, pick up a copy of Moby Dick. Herman Melville set sail in 1841 on a similar vessel. The Morgan is the last of the 2,700 whaling ships that once sailed the globe, when New England was the whaling capital of the world.
Restorers are planning to spend $10 million to make the Morgan seaworthy again. Lacking blue prints and 19th-century ship builders, they're instead using lasers and portable X-ray machines, forensic scientists, and what sounds like a small army of historians and artists to make the renovation as true to the original design as can be.
I'm especially interested in this story, which I hadn't known about, because I have a personal connection to the Morgan. I grew up nearby, and as a kid attended Mystic Seaport camp**, which involved doing lots of colonial-era stuff like weaving and churning butter and salting cod, but also climbing the rigging of the Charles W. Morgan and imagining what life would be like as a whaler. I still remember my first impression upon climbing aboard for the first time: "Good Lord, this thing is tiny!"