Shaq Signs With Celtics, Already Starting Twitter Fights
Shaquille O'Neal officially became a Boston Celtic Wednesday afternoon. But before his first tip-off in the green jersey, he might be one half of a high-profile boxing match--at least if we're to believe the Twitter war that took place last night between the basketball star and ESPN reporter Jim Rome.
It began when on his TV show Rome is Burning, Rome warned Celtics president of basketball operations Danny Ainge that signing O'Neal would be a mistake. He claimed that O'Neal failed to live up to expectations throughout his career, and that "he never approached the game with the dedication and discipline of Kobe Bryant."
Shaq took to his Twitter account to defend his honor, roping Rome into a Tweeting argument that included challenging the reporter to a boxing match. Here are the highlights: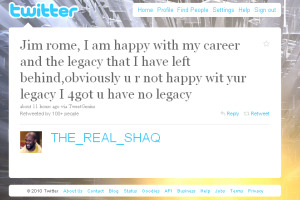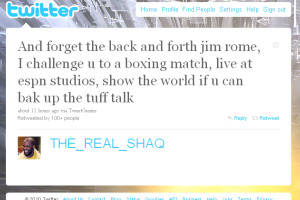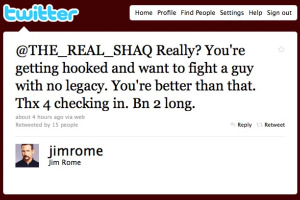 Read the full story at The LA Times' Lakers Blog.