Roger Clemens: What's the Worst That Could Happen?
"Let me be clear. I have never taken steroids or HGH."
That was Roger Clemens nearly two and a half years ago, testifying before Congress that he had never in his career used performance-enhancing drugs. It's a statement that's now haunting the star pitcher. He's just been indicted by a federal grand jury for allegedly lying during that Congressional hearing; if convicted on all charges, he faces a combined maximum sentence of 30 years in prison and a $1.5 million fine. Beyond possible jail time, the Rocket's future as a Hall of Famer is now in question as well—a mammoth blight on the career of the seven-time Cy Young winner.
Clemens remains steadfast in claiming his innocence when it comes to both steroid use and the perjury charges: "I never took HGH or Steroids. And I did not lie to Congress," he tweeted Thursday after news of the indictment broke. "I look forward to challenging the Governments [sic] accusation and hope people will keep an open mind until trial. I appreciate all the support I have been getting. I am happy to finally have my day in court.
But as other athletes have learned, it may not be the best strategy to be so vocal in denying the charges. At the very least, Clemens has Andy Petite's testimony against him, that Clemens had confided to him that he'd used HGH. So if it turns out that the Rocket has his pants on fire, what's the prognosis for his future? From Marion Jones to Mark McGwire, here's a look at how some of his Pinocchio-sympathizing colleagues have fared, ordered from worst case scenario to best.
Worst: Marion Jones
Back in 2008, the five-time track and field gold medalist pleaded guilty on two counts of perjury, and was sentenced to six months in prison. She had lied to federal agents about using performance-enhancing in two different investigations, and prosecutors had recommended a jail time range of zero to six months. The fact that she was granted no leniency led many, including Queen Oprah, to believe the judge was making an example of her to deter other athletes from lying. Two years and a seemingly endless stream of untruthful athletes later, will a judge want to make an example again—this time in the form of a 6'4" World Series-winning pitcher?
Slightly Less Worst: Tammy Thomas
Cyclist Tammy Thomas was sentenced to six months of home confinement after being convicted of perjury and obstruction of justice for lying about her steroid use. She denied the usage despite 2002 steroid testing results that came back positive. She was spared a two and a half year prison sentence by a judge who felt it wouldn't be fair considering the "ringleaders" of the BALCO doping investigation were only given four month jail sentences.
While house arrest sounds slightly unpleasant, it may not be completely outrageous to think that a baseball player who reportedly earned $4.5 million a month owns a house that wouldn't be totally heinous to spend six months in. Slightly less worse case scenario.
Still Pretty Bad: Miguel Tejada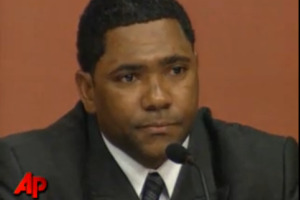 YouTube
All-star shortstop Miguel Tejada faced up to a year of prison time for lying to Congress about his steroid use, but walked away with just one year probation, 100 hours of community service, and a $5,000 fine. The reasoning? According to the case's prosecutor, Tejada's lie (he told Congress "he had no knowledge of other players using or even talking about steroids or other banned substances") was an uncharacteristically bad decision: "Since that point and time, he's made a series of good choices."
The attorney went on to praise Tejada's rags-to-riches upbringing, his mentorship of young ballplayers, and work ethic, citing all as reasons to be lenient with the former juicer. Charitable, humble, and overall pleasant to be around—sounds just like Roger Clemens, right?
Jury's Still Out--Literally: Barry Bonds
Home run champ Barry Bonds will stand trial for his perjury indictment in March 2011. Like Clemens, he could face 30 years in prison if convicted. So how do their alleged lies compare? Bonds claimed to not know that his trainer Greg Anderson was injecting him with steroids: "Greg wouldn't do that," he testified. "He knows I'm against that stuff." The public was so taken aback by the thought of the Home Run King juicing that even the George W. Bush White House released a statement about it, calling it a sad day for baseball.
While President Obama has yet to weigh in about Clemens's indictment, it's undeniable that the guy who threw a bat at Mike Piazza is a little less beloved than the generally amiable Mr. Bonds. So while both baseball legends are awaiting their respective trials, Bonds has the advantage when it comes to the court of public opinion. If by chance both players are convicted, life for Bonds would likely be much less of a living hell--if hell is populated by angry sports fans and the snarky media.
Pretty Lucky: Rafael Palmeiro and Sammy Sosa
Perhaps the most indelible image of the congressional hearing on steroid use in baseball was Rafael Palmeiro's finger-wagging incident. He famously shook his pointer in front of the panel and asserted: "I have never used steroids. Period." Only, shortly after that Palmeiro tested positive for steroids. Sammy Sosa, on the other hand, told the committee, "To be clear, I have never taken illegal performance-enhancing drugs." But then The New York Times reported that he had in fact tested positive for steroids back in 2003.
Both players were caught lying, but—Clemens must be seething now—both have gotten off scott-free. The statute of limitations passed in Sosa's case, and there was reportedly not enough evidence to indict Palmeiro. Technically, Clemens's case could still get thrown out, but the fact that he's already received his indictment means he's significantly less lucky than his slugging counterparts.
The Surprising Best Case Scenario: Mark McGwire
When Mark McGwire testified alongside Palmeiro & Co., his non-committal answers to questions about steroid use made him look pretty bad. "Nobody in baseball came across well that day," writes Sports Illustrated's Joe Posnanski. "But the general consensus seemed to be that the big loser was a giant red-headed slugger named Mark McGwire." And while at the time, his "no comment" agenda proved exceedingly frustrating, now that it's come out that he did use steroids, that strategy might have saved his post-scandal career and helped him avoid jail.
Sure, McGwire is having a rough time getting into the Hall of Fame--despite breaking Roger Maris's home run record, he has been passed on the ballot four times (a slight Palmeiro is sure to face when he first appears on the ballot this year). But as words like "perjury," "lying," and "prosecution" circle the names of some of the game'—formerly considere—greatest athletes, McGwire is escaping the bulk of scandal without having any of those criminal connotations attached to his reputation.
So, what's likely to happen to Clemens?
Clemens may, worst case scenario, end up like Marion Jones and serve several months of jail time. Or he may be completely innocent and the case will get thrown out. (Innocent until proven guilty, remember?) But he'll still have endured months of bad press, have been labeled a liar, and have been turned on and lost respect from his once enduring fans. So best case scenario, he's still got it pretty bad.