Around these parts, How to Wreck a Nice Beach author Dave Tompkins is known for two things: his mastery of the history and uses of the vocoder, and his ability to recall obscure details of the NFL circa the 1970s. Taking a break from his grueling book-touring and list-making, Dave dropped by to offer this remembrance of the controversial Jack Tatum, who passed away last week. (Recommended ambiance: Dave's vocoder mix.) (And if you're curious, you can buy his book here.)
The Super Collider
by Dave Tompkins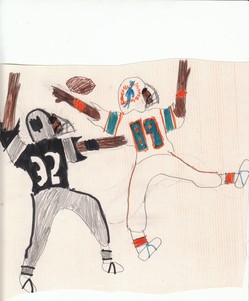 Particle Accelerators: Jack Tatum and Miami receiver Nat Moore, by author, circa 1977
After former NFL star defensive back
Jack Tatum
died last week, my brother and I had a laugh about the time Tatum knocked Sammy White's eyeballs out of his head. At least that's how Sammy called it. You know you've been hit if your eyeballs have relocated their base of operations five yards downfield inside your own purple helmet, blinking through the earhole. Could've been 20 yards, if myth had its way.
Little did we know that Super Bowl XI was an invitation to a beheading. A feared safety for the Oakland Raiders during the 1970s, Tatum didn't tackle as much as, in his words, "sever players from reality." Spectators too. A woman sitting near Raider's owner, Al Davis, screamed that Sammy White had literally lost his head.
Jack Tatum died at 61. A villain, an All-Pro, and an amputee. Most kids mimicked the end zone dancers, the White Shoes Johnsons, or the quarterbacks that got them there. (Homer Simpson: "Johnny Unitas—now there's a haircut you can set your watch to!") Yet my brother identified with this defensive safety who never apologized for paralyzing another player, once described as Genghis Khan with an afro. "A good collider in a game of collisions."
My brother wore a Raiders jersey bearing Tatum's name—then a new service offered by Sears-Roebuck, which at the time felt like the greatest invention since HBO. He once told me that Jack Tatum's uncle was bagging groceries at the A&P on Providence Road. I didn't believe him and biked over to find the Good Collider's uncle standing at the end of the checkout conveyor, with "Tatum" namegunned to his red apron.
I don't remember much about the exchange, other than asking if his nephew was a nice guy and could I have an autograph?
My brother and I took the game seriously. We spent Sunday afternoons beating the church out of each other, acting out goal line stands on the vinyl couch in the den. We made faces to our own dun-dun versions of the NFL Films symphony. Slow-motion was required for grit and exaggerated scrunch, yet it robbed my brother of the velocity needed to convince the effect. Occasionally, he sped up the action to ensure my face arrived into the crook of his arm on time.
Jack Tatum called this technique The Hook, a form of clothes-lining that once got him a free trans-continental flight to New York for a disciplinary meeting with NFL Commissioner Pete Rozelle. (The return flight was empty, which led Tatum to believe Rozelle had programmed the plane to crash.) He learned The Hook watching Dick "Nightrain" Lane.
We collected football cards and used my dad's .38 to shoot up players we didn't like. (Some lucked out and got tombstones.) Once when I was playing one-on-none football with myself in the backyard, my brother and his buddy Vinnie Vickers started popping me with a Daisy Air Rifle from a tree house in the woods. Mistaking BBs for bee stings, I thought nothing of the welts on my leg. (Years later, Vickers would shrug a helpless apology to my mom: "Mrs. Tompkins—I didn't think I was actually gonna hit him!")
My mother wasn't really into it. During Super Bowl X, we fled the house so my brother could be alone with Cowboys and Steelers. The outcome was not good. I remember calling from my grandparents to check in. An impressive stream of cuss and on-field damnation poured through the phone, followed by the sound of the TV tray, clattering across the floor.
My brother's high school football career was hampered by injuries. His coach, Bob Wheeler, called him
Pains
(his real name is Aiken). I learned this while arm-wrestling Coach Wheeler for a box of his own cigars. I was in 4th Grade. During PE, Wheeler would blow the whistle and say, "That's illegal use of the illegal use." Or he'd just call us a bunch of
yuh-huhs
.
Another time he took the class out behind
the gym for a firing squad exercise. He lined us up against the wall, machine-gunned his hands and blew us away.
after Pains sent him burning down the sidewalk on a fly pattern
. It was a clean hit. Fuller, a Dolphins fan, wailed home with a new dent in his head.

The lamppost was never the same. It would suffer random blackouts, or just stand by the driveway in a daze, blinking. Winn's dad, Ed Fuller, saw this one night while out walking his schnauzer. Next morning, he told my mom that I was trying to signal the Martians again.
We all fell dead laughing in our gym clothes.
Later when I attempted to play organized football, I inherited the musty arm pads of Pains. They called me "The Mummy." I ended up quitting after the first day of full-contact practice, sprawled out on the field, studying the jitter of gnats in my facemask, thinking of better ways to finish off the summer.
I did not share this with Jack Tatum when we met on a golf course north of Oakland in 1998. (It was an interview for the Aquemini issue of Rap Pages.) He signed my brother's copy of They Call Me Assassin and told me about a Raider cornerback named Skip Thomas. Apparently, Skip once had a motorcycle wipeout in the team parking lot but sewed himself up in time for practice. "Skip had different ideas about football," Tatum wrote.
Hard to beat that one.
So I told Tatum about how my friend Winn Fuller was nearly topped off by the lamppost in our front yard,