Around these parts, How to Wreck a Nice Beach author Dave Tompkins is known for two things: his mastery of the history and uses of the vocoder, and his ability to recall obscure details of the NFL circa the 1970s. Taking a break from his grueling book-touring and list-making, Dave dropped by to offer this remembrance of the controversial Jack Tatum, who passed away last week. (Recommended ambiance: Dave's vocoder mix.) (And if you're curious, you can buy his book here.)
The Super Collider
by Dave Tompkins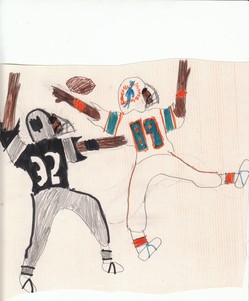 Particle Accelerators: Jack Tatum and Miami receiver Nat Moore, by author, circa 1977

After former NFL star defensive back Jack Tatum died last week, my brother and I had a laugh about the time Tatum knocked Sammy White's eyeballs out of his head. At least that's how Sammy called it. You know you've been hit if your eyeballs have relocated their base of operations five yards downfield inside your own purple helmet, blinking through the earhole. Could've been 20 yards, if myth had its way.
Little did we know that Super Bowl XI was an invitation to a beheading. A feared safety for the Oakland Raiders during the 1970s, Tatum didn't tackle as much as, in his words, "sever players from reality." Spectators too. A woman sitting near Raider's owner, Al Davis, screamed that Sammy White had literally lost his head.