Paris Hilton's Glamorous Prison Photo Shoot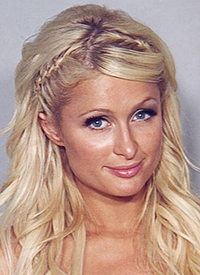 Las Vegas Metropolitan Police Department
When Paris Hilton was arrested on drug charges late last week in Las Vegas, she had to pose for that most shameful of photos: the mug shot. But as The Cut points out, Hilton has an uncanny ability to look glamorous under the harsh eye of the prison camera. The blog says she "almost" nails this latest photo, praising the heiress' hair and makeup but admonishing her for forgetting one thing:
Hilton ... is a mug-shot unicorn: She always avoids looking like she got dragged there from the floor of a wrecked Maybach, instead looking fresh and lovely, like she walked off the set of a Swiffer commercial. Celebrity makeup artist Mally Roncal told us, "I love how she knows what her angles are," and praised her signature swooped-to-one-side mug shot do. Her latest mug shot, taken Friday night in Vegas, is also mighty impressive from a hair and makeup standpoint, although she could have used an extra half a second to open up her lazy eye.
Read the full story at The Cut.