Movies About the Internet, Ctd: What 'Hackers' Gets Right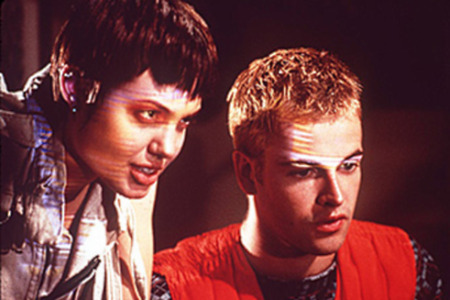 MGM
I quite liked Benjamin Mercer's roundup of movies about the Internet that anticipate The Social Network. But I think he's remiss in omitting one title. Hackers has nowhere near the sophistication of some of the other movies that he's citing. It's cheesy, and melodramatic, and features Jonny Lee Miller at his poutiest. But it's also a great movie about how people forge positive social relationships online and then transfer them into real life.
The plot is really quite simple. Boy gets busted for hacking as a preteen. After his probation's done, boy moves to New York. Boy meets Angelina Jolie in high school and finds out she's a rad hacker. Boy joins Angelina Jolie's group of hacker pals, who give Bunk from
The Wire
 (Wendell Pierce, playing a New York cyber-crime cop) a hard time and work together to stop Fisher Stevens from stealing a lot of money (although they can't stop him from betraying Dr. Melfi [Lorraine Bracco, out-annoying Fran Drescher]). It's a weird, overstuffed movie that places too much power in the Internet and things people can do while playing around with it. But it's fun, and captures something about the aggressive intelligence of smart, malcontent teenagers.
Most kids in the Internet age are not going to spend their time hacking into mineral companies' computer networks to prove they're cool. But one of the great, critically important social dynamics of our age is the personas we create for ourselves online, and how we cope when we want to move into real-life contact with people who only know us by those personas. The Internet's a place to experiment until we know who we want to be—we can strive for that in real life, or not, depending on what we believe our capacities are. It's exactly what happens to Dade and Kate, the movie's Boy and Girl, who initially meet while hacking a TV network:
Dade is not as aggressive or articulate in person as he pretends to be online, though Kate, being a quite young Angelina Jolie, is hotter than her handle, Acid Burn. Their prickly competition gives way to romance, and a strong solidarity between their immediate group of friends and the wider hacking community, as people they've never met come to their aid. Much more than identity theft, or fraud, or child abuse, or sex, the internet as experimental social playground matters. While it may have been the provenance of smart, frustrated people who knew how to make use of it in the beginning, we've all got to deal with the social issues Dade and Kate faced fifteen years ago.
And we all benefit. One of the messages of the movie is certainly that while hacking can be used for evil, the internet is where you find your tribe, if you're too smart, or too maladjusted, for your surroundings. The net's great promise is that even if you feel alone, you can find someone like you out there in the vastness of the web, and that those relationships will be no less real for being remote. Such affinity knows no particular race or religion (Dade's friends are, eventually, black and Asian and Latino and a Jewish Matthew Lillard, a shonda for the goyim if there ever was one), just talent, and energy, and rage, and the joy of accomplishment. Hackers is very much a teenaged movie, and very much a movie of the early internet years. But even given those limitations, and some of the movie's great and abiding sillinesses, it's also true and predictive, and a little sweet.