Molly Ringwald's Revealing Interview on John Hughes, Not Being Lindsay Lohan, and More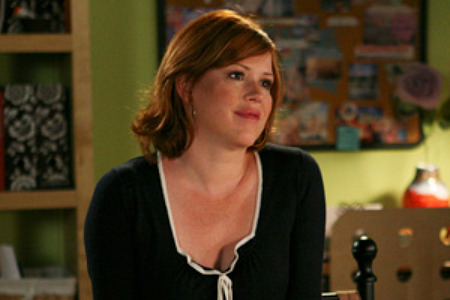 ABC Family
If you're part of the MTV Generation and you went to movies in the 1980s, she's practically a touchstone. Molly Ringwald in Pretty in Pink, playing Andie Walsh, the redhead from the wrong side of the tracks, in love with a "richie." "If somebody doesn't believe in me," she tells him, "I can't believe in them."
Writer-director John Hughes certainly believed in Ringwald. He put her in that picture and two others, Sixteen Candles and The Breakfast Club, making her a star. By the summer of 1986, she was memorialized on the cover of Time as America's princess and "the exemplary California teen."
After Hughes suddenly passed away a year ago this month at age 58, Ringwald wrote about him on the New York Times op-ed page (and isn't it just like Molly Ringwald to grow up and write a Times op-ed?): "John saw something in me that I didn't even see in myself. He had complete confidence in me as an actor, which was an extraordinary and heady sensation for anyone, let alone a 16-year-old girl."
Today, at age 42, Ringwald is married and has three children. She also plays a mom on the Monday night ABC Family drama, The Secret Life of the American Teenager. She is the author of a new book, Getting the Pretty Back, her guide to style, friendship, romance, and motherhood. On Sept. 19, Ringwald will join her Breakfast Club co-stars Anthony Michael Hall, Judd Nelson, and Ally Sheedy in New York for a Film Society of Lincoln Center screening and retrospective of Hughes, to be moderated by writer-director Kevin Smith.
On a summer afternoon at a café in Santa Monica, I started with the one question that I had to get out of the way: why Molly Ringwald didn't marry the man I thought she should have.
---
It's logical that you should have married Matthew Broderick. You two seem spiritually aligned.
(Laughs) Who said that? (laughs) Did you say that?
Yes.
You're right. I feel a kindred spirit with him. I love Matthew, and we definitely have charisma together. And he's one of the funniest people I think I've ever met. But I'm very happy with my husband—and I think Matthew is quite happy with his wife.
So why didn't you at least make a movie together?
We were supposed to be in a John Hughes picture called Oil and Vinegar. The script needed some re-writes and John didn't want to meet and re-write. I ran out of time and had to go shoot another picture. It's too bad because it was a very funny script. The movie would have been fantastic.
In the Times story you wrote about Hughes, you mentioned turning one of his pictures down. Was it Oil and Vinegar?
No. John wanted me to be in Some Kind of Wonderful. I declined because I felt like the script wasn't strong enough and was too derivative of the other films I'd already made with John. He wanted me to play the role of a character called Watts, which went to Mary Stuart Masterson, but I was ready to graduate from high school.
Did John Hughes get his due?
I think so. The coverage after his passing was certainly more than he would have expected. I don't think he ever really felt appreciated. John was overly sensitive. He had a heavy heart, and was very prone to personal injury. He was always more likely to think that somebody was slighting him.
There was a tribute to Hughes at the Academy Awards ceremony earlier this year. You and Matthew Broderick, Anthony Michael Hall, and Ally Sheedy paid your respects.
John would have been very surprised that he was being saluted at the Oscars. Our segment was supposed to have been longer, but the producers cut it. It should have been longer. John Hughes had such a huge impact on filmmaking. Instead, there was a horror film montage that went on twice as long.
What films do you think best reflect what it means to be a teenager?
Rebel Without a Cause is stylized. Splendor in the Grass is an excellent movie about teenagers. But there really aren't that many. That's why John Hughes's movies have prevailed. There hasn't been anything to replace them. Before I made movies with John, whenever people thought of teen movies, they thought of Animal House and Porky's. John was doing something very different. He wasn't creating slapstick. His pictures were from a teenager's point of view.
At first, Universal Studios wanted him to go a different direction.
Yes, they resisted John's approach. By the time we actually shot The Breakfast Club in 1984, he had re-written the script numerous times because the studio demanded it. There was a nude teacher swimming, scenes that were there just to insert nudity, to make the movie a little more like Porky's. The thinking was: if we're going to make a teen movie, then it should be like Porky's because it was a hit.
But the result was something quite different.
It was John at his best. He called me a week before we were supposed to start. "Are you excited?," he asked. And I said, "Yeah, I am. But the script is really different from the one I initially read." He said, "What do you mean?" I told him, "Well, a lot has changed." So the next day, at rehearsal, John brought in a stack of scripts, all his different versions of The Breakfast Club. He had us go through them, piecing together a script that was like the one I originally agreed to do. That's unique for a writer-director.
What would John Hughes think of your series, The Secret Life of the American Teenager?
I have no idea. Once he stopped doing the movies that we did together, we didn't stay in contact.
Do you think you really knew what it was like to be a teenager? After all, you were a movie star at 16.
There wasn't any escaping being a teenager. I felt all the things that other teenagers felt. I was insecure in lots of ways, over-confident in others. I was very emotional. Excitable.
Speaking of that period of your life, you were on the cover of Time magazine in 1986, back when being on the cover of Time really meant something.
Well, when John passed away, I was asked by Time magazine and The New York Times to write something about him. All my representatives kept advising me to write the story for Time. But I went with the paper instead. They gave me more space.
When you looked at the cover of Time with your face on it, whom did you see looking back at you?
All I could think was that my hair looked overly processed. To me, it was just another cover.

But it was Time, America's oldest newsmagazine.
I had just turned 18. The cover I was really excited about was Seventeen magazine. To me, it was much bigger than Time. Seventeen was where I wanted to be.
You've written a book full of advice, especially for young women. What advice do you wish you'd received growing up?
I don't think I've ever been good at following other people's advice or counsel. That's not my strong suit. I have a very independent spirit. I was always advised to go to college. I applied and got accepted, but went to Paris instead.
There are those movie actresses who are going along just fine and then, suddenly, they do something entirely different in their careers. You went to Paris.
I did. I went there for work, but I fell in love with Paris—and then I fell in love with a guy from Paris. It was great. I learned to speak French, worked in French, and traveled all over. Eventually, I missed my family and home.
You were making all these movies, and then just left the business behind.
Well, it seemed as though I'd never really lived out of the public eye. For a long time, I was very career-driven and famous here. I just wanted to know what it felt like to live life day in and day out without concentrating on a movie career. I wasn't married, I was in my twenties, and I thought: if I'm ever going to live in another country, now's the time to do it. So I did it.
Did you come back from France with a different view of Hollywood?
Yes. Hollywood was never as important to me as it once had been. I wasn't driven in the same way—and I'm still not. I enjoy what I do, and I love filmmaking. But I'm not interested in the game and politics of Hollywood.
Reportedly, you turned down the role of Vivien, the prostitute whom Richard Gere falls for in the movie Pretty Woman. It made Julia Roberts a star. Why didn't you take it?
That's a little bit of a myth. A script came across my desk, and I can't recall if it was even a firm offer or not. I don't even know if Richard Gere was attached to the picture. I don't even know whether I did turn it down. But it still makes a really good Hollywood story. Pretty Woman is what it is because of Julia Roberts. It was a part meant for her, just like there were parts meant for me.
You seem to have too much moral authority to have played Vivien.
Well, I don't think there's anyone who could have played that role better than she did.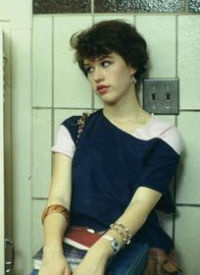 Universal Pictures
One of your best films that seems as though it's been forgotten is the romantic comedy The Pick-Up Artist, co-starring Robert Downey, Jr., and set in Atlantic City.
That movie was a very peculiar situation (laughs). James Toback was the director. Gordon Willis, a very famous cameraman, was shooting it. And Warren Beatty was producing it. There were lots of cooks in the kitchen. Warren is the one who pretty much directed me

What did you learn from Warren Beatty?

Warren would take Robert Downey and me into a room and make us break down the entire script. He made us delete all the adjectives. He would even delete stage direction because that was how Stella Adler, his acting coach, trained him. Warren believes that every time a character does something, it should be organic.
Was making that picture a good experience?
It was amazing training for filmmaking. I even wrote a scene. We all sat down and wrote a version of an extra scene, and mine was selected. After I lose all the money and Robert and I are walking in the casino garage, I'm eating Maalox. That's my scene.
Do you want to make other films with Beatty?
We've talked about it, but Warren only makes a project about every twenty years or so.
Of all your film directors, who is the one who understood you the most?
Paul Mazursky on Tempest.
Which director got the best performance out of you?
John Hughes.
Who else had a big impact on you?
My studio teacher, Irene Brafstein. She was hopeless in math and chemistry - all the subjects I was hopeless in, too. But she was pretty amazing about the development of my mind. She helped make me curious about the world. She was also a Francophile. Irene was from Brighton Beach, and was married to her husband for a long time. We would sit and talk about art. She made the world seem like a big, interesting place, and I learned a lot from her. Irene was Jodie Foster's teacher before she was mine. Warren Beatty had an impact on me, too, especially in terms of his interest in politics.
What did Warren Beatty say to you about politics?
I was around politics when I was with him. I soaked it up through osmosis. He's considerably liberal—and I am, too. Warren enjoys taking a differing and surprising point of view on occasion. For instance, I remember him insisting that George W. Bush wasn't as stupid as everyone thought he was.
What's your view about movie stars speaking out publicly on political issues?
Everyone should speak about political issues—as long as they're well informed.
Do you mind being asked your opinions?
I didn't like it when I was a teenager. People wanted to call me an authority on a generation, but I didn't feel equipped to do that because I was still figuring out myself and my life. Now, at age 42, I've lived a little. I know a few things.

There's a certain moral confidence that you bring to your roles. Has faith played a part in your life?
I think I have a very strong moral compass, and it may have come from religion. My parents raised me as a Christian. That's something that never really leaves you. Am I a religious person? No. I consider myself a spiritual person, but I don't believe in organized religion at all.
Is there a prejudice against redheads in Hollywood?
I don't think so. There was Lucille Ball. Julianne Moore is a redhead who's doing really well. Christina Hendricks is on Mad Men.
You write that you're a redhead in color and personality. Explain the personality aspect.
We're a little more offbeat—and we're harder to anesthetize.
Blondes seem to get all the attention.
Sometimes it seems like everyone loves blondes. But the people who like redheads—well, they like them so much it's almost a fetish. My husband only dated redheads. His high school girlfriend was a redhead, and so was his college girlfriend. Then he married me.
That you grew up in Hollywood, on TV and in film, and that you don't have a familiarity with rehab centers - that fact alone makes you fascinating in this town.
Well, I have a really great family, and they're protective. Plus, I was always too curious about life and education. I wanted to learn and discover. I knew that if I went down the road of drugs and alcohol that I would basically die. I haven't had a perfect life. I've had trouble. But I'm a private person and I just don't understand the appeal of making mistakes on a grand scale. It's horribly exhibitionist, and creeps me out.
Lindsay Lohan isn't alone. Why does it seem that so many young actors and young movie stars end up with their lives in tatters because of drug and alcohol abuse?
People turn to addictions to relieve whatever pain is intolerable to them in their lives, and show business certainly isn't the easiest and most sane career to choose.
Are you going to write a memoir about Hollywood?
If I ever write a straight autobiography, it won't be for many years. I think I'd have to wait until certain people are gone (laughs). I signed a two-book deal with HarperCollins, so I'm thinking about the next one. I'm leaning toward fiction.
When Sixteen Candles was released, it was criticized for stereotyping Asians because of Gedde Watanabe's role as the exchange student, Long Duk Dong. One of the news stories at the time quoted some in the Asian community as being "horrified, shocked, and offended." What do you make of that criticism now?
I've never in my entire life met anyone, Asian or otherwise, actually like the character of Long Duk Dong. He was an outrageous, comedic character—regardless of ethnicity. John Hughes likened him to a modern-day Eddie Haskell from the series
Leave It to Beaver
. Comedy can be cruel, and while political correctness is important in many instances, it would pretty much be the death of comedy if it were taken to the extreme.
As a teenager, who were your film heroes?
I loved Diane Keaton in all her Woody Allen movies. I idolized her, and she was exactly what I wanted to be when I grew up. And Gena Rowlands, who played my mom in my first picture, Tempest—I watched all the movies she made with John Cassavetes.
Now, at 42, have your movie heroes changed?
The other day, I saw Emma Thompson in Last Chance Harvey. There's this scene where she tells Dustin Hoffman why they can't be together. There were so many so many contradictions on Emma Thompson's face. She was luminous, beautiful, and feminine. It's lovely to see a woman of a certain age just being herself, without Botox, so you can watch the emotions.
Your father has been blind from birth. How did he experience your films?
I always sit next to him and describe everything. He likes The Breakfast Club. He gets just about everything that one needs to get from that picture from the words alone.
Now the truth can be told: in your movie Pretty in Pink, wasn't your character, Andie Walsh, just a little bit attracted to Steff, played by James Spader?
Andie wasn't—but Molly was!
>