Matt Damon Back on '30 Rock '... According to a Sherri Shepherd Tweet
Will Liz Lemon find true happiness with the man of her dreams, Carol the Airline Pilot? It looks like one of last season's cliff hangers will be answered, because Matt Damon is heading back to 30 Rock. And it appears that Damon isn't the only celebrity guest star coming back to the NBC show (which will vie for Best Comedy Series at this weekend's Emmys). The news of Damon's return was actually leaked via tweet by The View co-host Sherri Shepherd, who plays Tracy Morgan's wife on the series: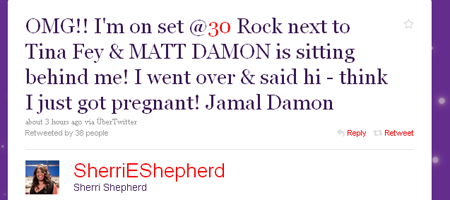 Read the full story at Movieline.
And in case you've forgotten how charming Damon was in last season's 30 Rock finale, here's a video clip: