Making Great Movie Posters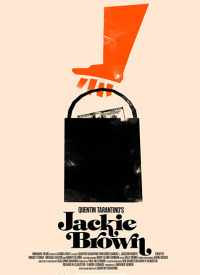 Miramax Films
Movie posters, or series of movie posters based on the blue/orange contrast have been all the rage lately. So even if the 2010 Rolling Roadshow, a movie tour sponsored by Levi's, had to stick with one of those colors, I'm glad they stuck with orange, and via Olly Moss, the artist commissioned to do them, stuck with a series of blunt images, rather than color-tinted stars. The poster for Jackie Brown, in particular, reminds me of the great crooked hand image for The Man with the Golden Arm.
The thing that's really interesting about these posters, though, is that they're an illustration of the extent to which we rely on stars to sell movies today. The reason the posters for these theoretically-classic movies can just have a blocky, evocative image, is that we recognize the central conceit or idea of each film even when it's rendered in abstract. A
smoking Smith & Wesson Model 29
isn't enough to get us interested any more unless we know in advance that it's Dirty Harry's Smith & Wesson Model 29, and we know what we does with it. We don't want to be intrigued by fragments, we insist on guarantees, or what we think are guarantees. We're less curious, more cautious. And apparently easily swayed by blue and orange.