'Mad Men': A Not-So-Happy New Year
The show rings in 1965 with an alcohol-soaked bender, a chauvinistic conversation, and a struggling marriage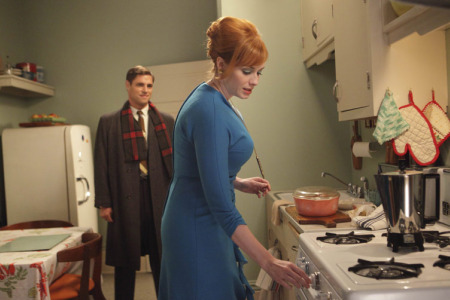 AMC
The fourth season of Mad Men premiered last month, revealing the aftermath of the creation of Sterling Cooper Draper Pryce and the dissolution of the Draper marriage.
To help make sense of it all, we have a panel of insiders from the worlds of television, advertising, and fashion—Richard Drew, Danielle Robinson, Leigh Davenport, and Catie Cambria—to provide their takes on all the sex, the clothes, and of course, the drama.
They weigh in on this week's show, in which Don takes a trip, tensions mount in the office, and Joan gets some much appreciated screentime.
Richard Drew (TV producer and creator of the blog Remote Patrolled): This week's Mad Men was one of those episodes which leave you asking, "What was that all about?"
Aside from Don himself, only Joan and Lane were given any substantial screen time. For Joan we caught a glimpse of the more tender side of her struggling marriage, while in Lane we witnessed a lonely middle-aged man using work to cover the cracks in his life (sound familiar?).
It was a strange episode in that half of the show was based in California, with Don learning of his "friend" Anna's cancer diagnosis—and then heading back to New York to drink, smoke and sleep with hookers! I'm not too sure what the connection was between the two parts —was it to show the evolving loneliness of Don's life, or how he uses sex and alcohol to deal with every crisis? In true Mad Men fashion we're left to decide for ourselves.
I spent much of the show waiting for a defining moment. I thought Don would sleep with Anna's niece and ruin their friendship, or Lane's night out would go awry. But Mad Men doesn't play by the traditional TV rules. Joan cut herself with a kitchen knife and Lane got drunk. And that was essentially last night's "drama."
Meanwhile melancholy hung in the air. Is there anything more depressing than Don's gloomy living room in the cold light of day? Or Joan's marriage? Or Lane's life in general? Mad Men is as strong as ever this season—but it sure isn't happy viewing.
Leigh Davenport (digital content producer at New York advertising company Footsteps Group): People often say that you can tell how successful you're becoming in your job by how rapidly your personal life starts deteriorating. In the case of Don Draper, he should be raking in billions for the amount of misery he's suffering through his first holiday season at his own agency. And as misery loves company, it's a good thing Don has Lane, (whose wife has also left him) to share in his New Year's eve extravaganza of drinking, public pity-partying, and prostitution.
The absence of work-life balance at the top levels of Sterling Cooper Draper Pryce has clearly trickled-down to the other employees. Allison admits to Don longingly that she is without plans for the holiday and in one of the most exciting exchanges of the episode Joan requests extra time off to spend with Greg who has hospital duty over the break. Lane tells Joan "I understand that all men are dizzy and powerless to refuse you," Lane says, "but consider me the incorruptible exception." "Don't go and cry about it," he adds. Despite Joan's seething anger at Lane's chauvinistic behavior, she ends up brutally (and hilariously) firing the secretary whose error resulted in her receiving a bouquet of apology flowers intended for Lane's wife.
However, the most exciting parts of this week's episode were found in the foreshadowing of social and political turmoil that will surely disrupt the lives of everyone at the agency. Joan is overwhelmed with worry that Greg will be sent off to Vietnam and during Don's visit to his former lover Anna, there is a quick reference to the freedom sit-ins at Berkeley. The episode closes with Joan saying, "Men, shall we begin 1965?" We cannot to wait to see how Mad Men tackles one of the most controversial years in American history.
Catie Cambria (fashion publicist at Donna Karan New York): Anna's sister sneers at Don, "You just can't keep your pants on, can you?" It was a question I was wondering myself as I continue to watch this aging Lothario lumber through his life. Don's once irresistible charm now seems tired and pathetic, and a sentiment echoed in the way women respond to him. Don is corny, even creepy when he strokes Stephanie's hair and tells her she is "so beautiful," and foolish when she rebuffs him and breaks the news that Anna has terminal cancer.
Still more foolish is Don's accusation that Anna's sister has not done enough, to which she levels a searing accusation: "You're just a man in a room with a checkbook. I'm sorry." Those words are enough for Don to abandon any notions of heroism towards Anna, and his quick resignation makes it hard to believe his sincerity. He leaves and he signs her wall, "Dick & Anna, 1964," knowing that both names will cease to exist in the New Year approaching.
Back in New York, Don and newly separated Lane go on an alcohol-soaked bender. Don seems almost pleased to have some one to share in his misery, and when Lane seeks advice, he offers a call girl. At a smoke-filled club, the on-stage comedian gleefully takes shots at Don and Lane. When their gaudy, glittering girls enter and greet them, the comedian quips, "You're not queers... you're rich."
And isn't that exactly all that Don Draper is at this point? Don and Lane sleep with their respective girls, and the morning after, Lane throws money at Don before exiting. "A man in a room with a checkbook" never rang so true.
Past Mad Men panels:
'Mad Men': The Beginning of the End for Don Draper?