How to Run a Book Festival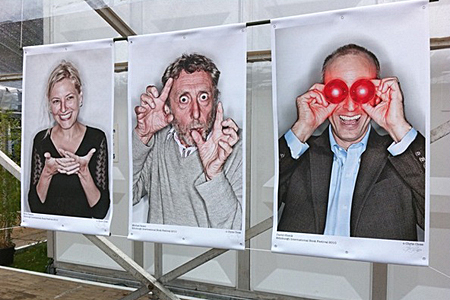 If you wanted to create the perfect book festival...
You'd choose a beautiful, ancient city with a spectacular summer climate and plenty of hotel rooms, restaurants, and pubs within short walking distance.
You'd pair it with other festivals running locally at the same time, so that you could collectively draw visitors from all over the world.
You'd install it in a roomy but cozy enclosed space, like a small park, where everything--venues, cafe, restrooms, grassy central lawn--are all adjacent to one another. You'd make access to the common areas free and encourage people to linger all day long.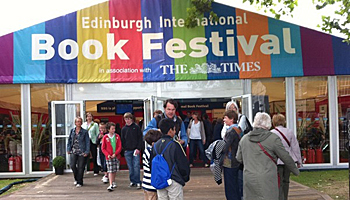 You'd train the staff to be ultra-friendly and ultra-efficient. You'd have high technical standards for the venues and presentations.
You'd invite a wide range of authors. You'd have a terrific photographer on hand to liven up the campus with large, exhuberant author portraits (I'm light-bulb eyes, top-right; top-left is novelist
Nora Chassler
).
You'd create a great bookstore right on your temporary campus.
You'd call it the
Edinburgh International Book Festival
. I had a terrific time here this week discussing my
new book
at three (sold-out!) events. I thank the staff, sponsors, the attendees, the photographer
Chris Close
, and the University of Edinburgh's ESRC Genomics Forum for hosting me.