'He Died Without a Struggle'
by Andy Hall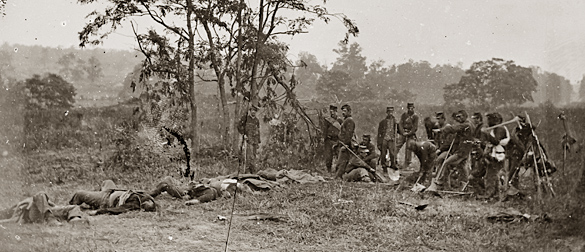 Army of the Potomac
October 6th, 1862

Dear Brother—I was surprised to hear of the death of Henry. I had heard that he was wounded, and got a furlough of two days to go and find him. Starting when your letter came to me, I wandered all day over the field at Antietam. I kept going for miles and miles, looking at every grave I saw, and was about to give up the search from fatigue and hunger (for I had already gone over twenty five miles), but I kept on till dark, and just as I was about to lie down for the night, I saw a few graves under an apple tree, a few rods off, and there I found the grave of our dear brother. It was a solemn time for me as I sat by the grave.

I found a person who watched with him, and was present at his burial. He was shot in the early part of the action. He died without a struggle. It will be a hard struggle for mother. To think he was taken away in so short a time after leaving home, while I have been engaged in six or seven battles! But the thought of his dying so peacefully (and no one can doubt his Christian character or fitness to meet his Maker) will lessen the grief of our mother, and brothers, and sisters. We have lost him; but this we know, he was a Christian, and showed a Christian spirit in all his actions. It seems like a dream. As I look from the "Heights" (Bolivar) [near Harper's Ferry], I can see the rebel army, and a battle is expected in a few days. I am willing to meet them, no matter how hard the battle, or how long and forced the marches are, if we can only finish the war, or make a beginning of the end. I may too, like Henry, be shot down. If I die, I die in the faith of Christ, and have no fears as to what awaits me. I am happy wherever I am. I can lie down with as much ease, and rest for the night within range of the enemy's guns, knowing that at dawn we may meet face to face, as I could at home upon my bed. It is near midnight, and I must close.

Sergeant S. P. Keeler
Corporal Henry Keeler enlisted in Company C of the 14th Connecticut Infantry on August 20, 1862. He died four weeks later when the 14th charged Confederate positions along a road later called "Bloody Lane." Corporal Keeler's remains were later returned for burial at Ridgefield, Connecticut.
The author, Silas P. Keeler of Waterbury, Connecticut, was a twenty-one-year-old sergeant in Company E, 8th Connecticut Infantry. He had originally enlisted in the 1st Connecticut Infantry in April 1861, mustered out a few months later, and re-enlisted in the Eighth in September 1861. He mustered out of the service in February 1865.
Although the addressee of Sergeant Keeler's letter is unknown, it seems clear it was written to a family member, with the intent that it would be shared. In addition to assuring that Henry had died "without a struggle " and the typical assurances of religious faith and comfort in the face of danger, Keeler also mentions that "I found a person who watched with him, and was present at his burial." This was an important consideration in the 19th century, that even when nothing could be done for the man, he did not die alone, and had a mourner at his interment. Sergeant Keeler was making sure that his family knew that Henry had died a "good" death, as it was understood at the time. Even in his own circumstances, the writer was focused entirely on assuaging the fears and unease of his family in Connecticut.

Letter from Soldier's Letters from Camp, Battlefield and Prison, ed. by Lydia Minturn Post (New York: Bunce & Huntinton, 1865). Image: Burial party after the Battle of Antietam, Library of Congress.