For 'Mad Men' Actress Christina Hendricks, Life Imitates Art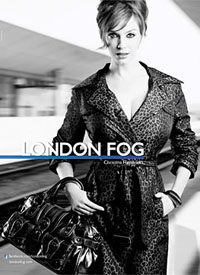 London Fog
Mad Men actress Christina Hendricks will be featured in a series of ads for London Fog this fall. It's an either creepy or brilliant example of cross-marketing, since London Fog was once a central part of the show's plot. The brand was a client of Sterling Cooper—the ad agency where Hendricks' character Joan worked as a secretary—in Mad Men's third season. The Cut reports:
Trench-coat label London Fog hired Mad Men's Christina Hendricks, who is famous for her voluptuous figure, to star in its fall ad campaign ... London Fog's coats have appeared on Mad Men. The label's previous faces include Gisele and Eva Longoria with Tony Parker.

What's next—Jon Hamm in a Lucky Strike commercial?
Read the full story at The Cut.