Ellen DeGeneres, Lady Gaga, Others React to Prop 8 Ruling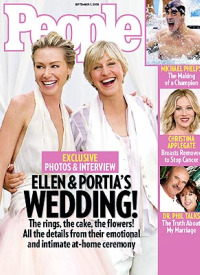 People
Hollywood couldn't be happier with the California court decision yesterday, ruling that Proposition 8, which banned same-sex marriage in the state, was unconstitutional. Back in August 2008, before Prop 8 took effect in California, Ellen DeGeneres married actress Portia de Rossi in what is arguably the most high-profile same-sex wedding to date. DeGeneres Tweeted soon after the news broke, ""This just in: Equality won!" before formally expressing her excitement with this statement:
"I am ecstatic that proposition 8 has been overturned in the state of California.  This is an incredibly exciting and historical day and a big step towards equal rights for all."


Other stars also spoke out about the ruling, taking to Twitter to relay their pleasure.  Lady Gaga, for one, tweeted that she's been inspired to write a song:
"At the moments notice of PROP 8 DEATH I instantly began to write music. BUBBLE DREAMS FOREVER! FULL EQUALITY! THIS IS JUST THE BEGININNG!"

"REJOICE and CELEBRATE gay communities and straight all over the world. Our voices are being heard! Loud! SCREAM LOUD AMERICANOS!"
Emmy nominee Jane Lynch (Glee), who recently wed her partner, told Access Hollywood, ""I hope that it's positive, and if it gets to the Supreme Court, I hope that turns out to be positive too. It's a wave you can't stop. It's going to happen and people have to just come along."  Longtime gay rights activist Kathy Griffin also had this to say:
"I am, of course, thrilled and heartened by Judge Walker's ruling... As we all know, the anti-gay movement is certain to appeal this landmark case to the 9th Circuit U.S. Court of Appeals in San Francisco and, ultimately, to the United States Supreme Court in Washington. So, while today's decision is a key victory in the fight for marriage equality, we still have a long way to go before my mother Maggie can break out her box of wine in celebration. I urge my friends and fans to stay strong, be vocal and take strength in the knowledge that we will be on the right side of history."

Several openly gay stars immediately took to their Twitter pages:
Adam Lambert: "We're gonna throw glitter on this barn tonight!!!"

Ricky Martin: "YEAHHHHH!!!!! #prop8unconstitutional Moving Forward!!!!!!!!"

Lance Bass: "Congrats on the overturning of Prop 8!!!!"

Adam Shankman: "And justice is served. We are equal once more. God bless the letter of the law."

Sandra Bernhard: "If we can't have the same tax breaks, insurance coverage etc, then we are not paying for your wars, get it together right now."

While other celebrities also voiced their support:
Kristin Chenoweth: "Prop 8 overturned in California! Praise God!"

Kim Kardashian: "Prop 8 was struck down! This news is amazing!!!! Its about time! Congrats to everyone!"

Shanna Moakler (the Miss California Pageant Director at the center of the scandal surrounding contestant Carrie Prejean's response to an interview question about gay marriage): "Tonight we celebrate! EQUALITY and LOVE for all!"

Milla Jovovich: "Yay! Finally ppl r being treated equally! And CA is cool again!"

Olivia Munn: "Prop 8 Overturned!!! Equal rights for everyone! Nice to be out of the 1950s.."

Paris Hilton: "

What a huge historical day for equal rights in this country! They finally overturned Prop 8! There shouldn't be a law on true love. :)"