Daytrotter: Where Good Music Gets Saved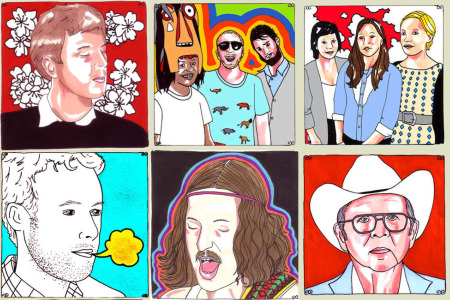 Sean Moeller
In the age of the iPod, it's harder and harder to get exposed to new, interesting music. In this three-part series, we'll look at websites that showcase artists and songs you don't already know by heart—but you'd probably like. Today, Joe Fassler on Daytrotter.
During April's 140 Conference, a summit on Twitter's influence on culture, Village Voice music critic Christopher Weingarten lamented that the Web is slowly, painfully killing music journalism. Our slipshod musical culture, he argued, is driven by Twitter firsties, blog aggregation, play counts, and SEO—seldom by musical or editorial talent. Gone, he suggested, are the old-fashioned virtues of taste and critical insight, as well as editorial willingness to go out on a limb for a strange or beloved band.
In Weingarten's view, the conversation about music is dominated by what will generate Web traffic; as a result, the Gagas and Biebers always win, even in once-venerable magazines. "Internet: I give up," he said. "You can have music writing, because you've sucked all the fun out of it. In 2010, writing about music, reading about music, and learning about music are about math." He spent the next 30 minutes of his presentation icily demonstrating the deep subservience of most music sites to the twin gods of social networking platforms and the great Google search algorithm. It's a reality.
---
MORE IN THIS SERIES:
Yesterday: Alex Eichler on The Hype MachineTomorrow: Sam Machkovech on BitTorrent sites
---
To understand Weingarten's complaint is also to understand the appeal of Daytrotter, a website that's become a preeminent way to find new music on the Internet. Almost every day of the year, at least one touring band will take some time off from the road to stop by The Horseshack, Daytrotter's recording studio in Rock Island, Illinois. Each act records four or five songs live to analog tape—no overdubs allowed, mistakes left in—and hits the road again. The sessions are released on Daytrotter.com at a rate of one a day, where they're available for free stream or download.
For Sean Moeller and the four other people who work with him, the site's uniting value is to be everything that the traffic-oriented, flash-in-the-pan music website—in Weingarten's shorthand, QuickDraw McBlog—is not. Instead of catering coverage to the bands that will garner the most hits, Moeller's conversation begins by speaking with musicians directly. "It's one of my easiest, favorite questions for musicians," said Moeller. "'what have you been listening to in your tour van?'" That's the band Moeller's most likely to bring to his recording studio—not just the one who's had a recent killer single or well-acclaimed release. This is what makes Daytrotter fundamentally different from most music sites, which must evaluate and respond to a vast amount of pre-approved content. Moeller is willing to recognize talented musicians just for being out there in the world, sometimes even before they have a recorded oeuvre to criticize.
The shift away from cheap, shoddy, and digital is apparent beyond Moeller's choice of bands. Daytrotter embraces analog technologies sitewide, so viewing the site for the first time is like stepping into a "Take On Me" alternate web universe. There's not a single digital press still on the site, for instance: instead, resident Daytrotter artist Johnnie Cluney draws eyepopping pen-and-marker portraits of each artist. Moeller's writings have the meditative, yarning bent of Kerouac novels—they're deliciously anti-SEO. And the recordings themselves are anomalous among today's commercial releases. Recorded live on an Otari MX 5050 analog tape machine, a hunky, reel-to-reel relic that most likely first spun its gears in the 1970s, Daytrotter tracks have a warm, spontaneous sound. The environment lends itself well to reworking and experimentation—bands often use their sessions to try on a new approach. Hard rockers The Walkmen, for instance, used a trip to Rock Island to work through reverb-laden covers of Leonard Cohen tunes.
Four years after the site launched, it's difficult to underestimate Daytrotter's importance to American rock music: just ask a musician. Brooklyn-based ARMS bassist Matty Fasano told me that the website is "a point of arrival" for up-and-comers. "Every band," he said, "especially in New York nowadays, knows about Daytrotter and wants to do a session. When they do get to do one, it's a big deal that they announce to absolutely everybody. I take it as the moment when you start taking a band seriously—when they've done a Daytrotter." Local Natives keyboardist/singer Kelcey Ayer agrees. "Sean's recorded artists over the years who have gone on to do amazing things," he said. "It can definitely be one of those amazing starting moments for a band."
When all goes well, a session's influence can be enormous. Born Ruffians recounted the eerie experience of having audiences sing along with "Sole Brother"—the lead-off single from Say It (2010)—which, at the time, hadn't been recorded yet. The only recording that existed was an earlier version of the song they'd done at Daytrotter in 2008. "People were obviously listening to Daytrotter," said singer Luke LaLonde, "because our audiences knew songs we'd never recorded anywhere else." Recently, Moeller let on that that the alternate lyrics have still been causing confusion live. "People at shows mess up and sing the lyrics from the versions they recorded at Daytrotter," he grinned, "because those are the versions they know."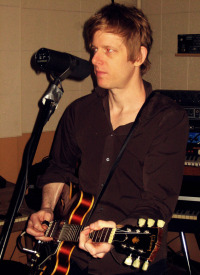 Sean Moeller
For breaking bands, this level of attention from the dedicated, vocal, and ever-growing ranks of Daytrotter devotees is a dream come true. Each morning, Daytrotter posts a new session on the home page, and that band is king for the day—whether they're a no-name or a headliner like Spoon or Yeasayer. Moeller is gleeful about plugging lesser-known artists alongside established titans. "If I put up a big act like Kris Kristofferson," said Moeller (and his session, by the way, is one of the brightest gems of the Daytrotter archive), "that whole week, we'll put up people that I think are really amazing. We can use the traffic to get those people to check out other bands. If I put somebody gigantic up, I want to put up somebody next who's kinda small, who maybe needs a little help." When feeling especially democratic, he'll let visiting bands choose a session from the burgeoning Daytrotter backlog to feature on the homepage the next day.
Daytrotter isn't above a little Web 2.0 networking: the site has corresponding Facebook and MySpace pages, and Moeller tweets frequently from @realdaytrotter. Still, he's never pursued conventional advertising. All new visitors to Daytrotter get there on word-of-mouth tips, or by clicking links from search engines or other blogs. It's testament to the quality of the content that, even without a publicity team or Google-gaming tactics like SEO, the site has been a traffic success. The site gets about 100,000 monthly unique visitors, according to compete.com, and Daytrotter's public tally of songs downloaded has more than doubled every year since 2006. On July 27th, the "Total Tunes Served" counter read 13,233,472, with half of those downloads made in the past year. With some big sessions to be released later in 2010—alt-country giant Wilco will Daytrotter for the first time this fall—it's conceivable that the site will reach its 20 millionth song download by early 2011. Not bad for a five-person operation, and especially impressive considering that the number does not account for the huge number of songs streamed but not downloaded, MySpace-style.
Music memorabilia site Wolfgang's Vault sells things like vintage Cream ties and Pink Floyd ticket stubs, but they also own a large, historically-important collection of original live recordings. The larger site caught onto Daytrotter early, and purchased a half-share of the enterprise in 2008. This ended up being a turning point for Moeller and company, who now can work on salary, without having to rely on advertising dollars. The acquisition is telling—though Daytrotter helps break new bands and is a source for "new music discovery," as its website publicly proclaims, its salient purpose, in the end, will probably be backward-looking. Slowly, quietly, Daytrotter has become the major repository for contemporary American music. There are over 900 sessions currently on Daytrotter.com, roughly 4,500 free, original recordings that can't be heard anywhere else. Considering that most bands only release a handful of professionally-recorded tracks per year, it's a vast (and growing) resource. Surely future music fans and scholars of the future will turn to Daytrotter to hear how bands developed in between studio albums, or to make analyses of key alternate takes.
Music at the speed of Wordpress, Weingarten has said, is so trend-focused and calculated that it's impossible to, in his words, "stumble on anything anymore." But Daytrotter's giant catalog is built for the stumble-hungry. Moeller sees the Archive page, which is sortable by band name or date of session, as key to the Daytrotter legacy; he insists on keeping all the recordings on the site and together on one page, no matter how sprawling or unwieldy the list becomes. Open it up. Sure, you could play it safe and download a session by grizzled country icon Charlie Louvin, or indie darlings Grizzly Bear. But there are hundreds of  obscure acts and lesser-knowns to choose from, all culled by Moeller's hand. Go ahead: download a session by Ezra Furman & the Harpoons, just because you like the name. If you don't dig it, hey, it was free. Stumble away.