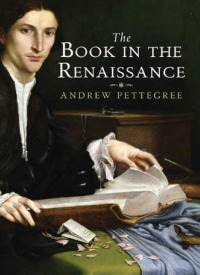 Yale University Press
Andrew Pettegree has dived into the history of the book just as its future seems most uncertain. His new work, The Book in the Renaissance, came out a mere month before Barnes & Noble would announce putting itself up for sale, reigniting debate about the end of print.
Pettegree, the head of the School of History at St Andrews University in Scotland, examines an earlier rocky transition in the history of the written word: not the transition from print to digital, but the transition from manuscript books to print. From his new survey made possible by libraries' online presence, he argues in The Book in the Renaissance that the early printed book market turns out not to have been at all like what scholars previously imagined. Printers, pressed by the tricky economics of the new technology, relied not on the famous new Bibles but rather on cheap pamphlets and light literature to stay afloat. News turned out to be a profitable area for these early publishers. Scholars, meanwhile, worried that the new technology would not so much advance civilization as degrade it, flooding the market with cheap, error-ridden classics and a prodigious quantity of non-scholarly rubbish.
Here, Professor Pettegree discusses the peculiarities of print in its infancy.
---
What did you find most interesting of the trends that you uncovered in your study of the early book industry?