World Cup: Spain vs. Germany
In advance of today's semifinal, some iPhone photos my cousin Eugene sent me from Cape Town. (Check out his website for more...he is a fantastic photographer.) The first is of a not-all-that-angry anti-Uruguay mob. The second illustrates the global reach of Octopus Paul's clairvoyant tentacles: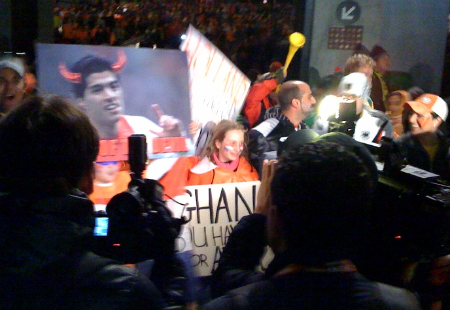 Eugene Kuo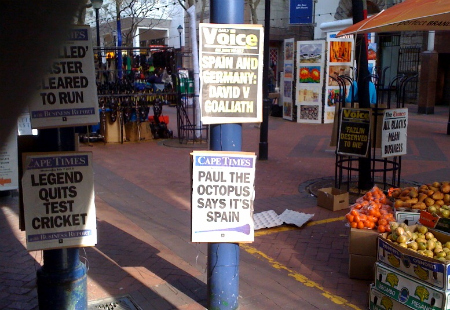 Eugene Kuo
Today would be a good day to revisit Piotr's post on the (occasionally) brilliant but undeniably effective Oranje. He, like many Dutch supporters, has been waiting a long time for Sunday.
And who will they face? The smart money is on Spain, protectors of the beautiful game or masters of the dark arts, depending on your perspective. Even though the Spanish should be considered underdogs in a historical sense—they've rarely ever shown and proved in tournament play—they also come across as the vaguely unlikable, sanctimonious juggernaut. Despite their recent dominance and the achievements of their club sides, Spain's Euro 08 triumph was only their second trophy, and their first in four decades. Which makes their face-off with an atypical German side—the romantic pick, according to some, and their opponents in the Euro 08 finale--all the more intriguing (or "mouthwatering," if you watch a lot of English football telecasts). You needn't be a psychic cephalopod to guess that Bastian Schweinsteiger et al have revisited this clip of the Spanish celebration a few times this week:
While Germany's approach to tactics and international successes have coalesced in the pundit's stereotype of "machine-like efficiency," their 2010 version is thrillingly different: they are young, fast, unpredictable, mildly diasporic...they even miss penalties. They don't play like any German teams of the past. Occasionally during this World Cup, they've played at a level beyond FIFA--beyond what is possible in a video game. You can execute Spain's precise, pinball-torture pass patterns. But you'd have a hard time approaching those unlikely spells of lightning-quick, German creativity, not even on a console, that ultimate theater of dreams. Will it be enough? Not according to the octopus. And, after watching this flash-ffwd-Ozil commercial from "cursed" Nike, I have to agree.