When Fairy-Tales Look the Same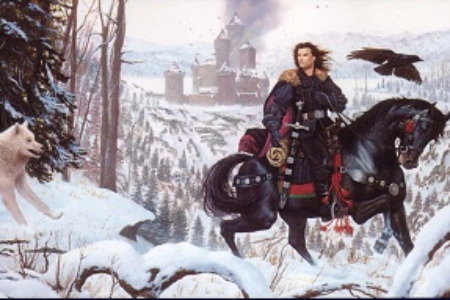 Bantam
On the extremely strong recommendation of my readers at my home base, and in anticipation of the HBO adaptation, I've started reading George R.R. Martin's A Song of Ice and Fire series. I'm finished with the first novel, A Game of Thrones, and halfway through the second, A Clash of Kings. Lots more posting to come as I read and re-read, but I have one early thought, and I'd be curious to see if this has struck anyone else as well.
One of my commenters warned me that the characters can seem a little superficial, which I agree is occasionally true. To me, though, some of that flatness comes from the fact that it often seems like Martin, who published the first novel in 1996, has taken Alanna of Trebond, the great heroine of Tamora Pierce's Song of the Lioness quartet, which began publishing in 1983, and distributed her characteristics across much of the cast.
Girl has to go into the desert and win the loyalty of a fragment of a highly independent and prickly tribe? Alanna does that, and so does Daenerys Targaryen. Gotta go into a highly dangerous, rural Northern territory and fight mysterious creatures? Alanna does that, as does Jon Snow. Want to pass for a dude and learn to be a warrior? Alanna and Arya Stark would have been besties. Magic swords and mysterious killings in close quarters? Thieves and smugglers raised to the nobility? Arrogant noblemen raised away from home with a little too many sowable wild oats to be useful? Both series have 'em.
I'm not accusing Martin of copying Pierce—his world is highly original, and executed in much more detail than hers, if only because it's written at such greater length. It's just that they have some highly similar elements across characters and geography.
Or maybe it's just that if you're going to tell fairy stories, there are elements you have to have, and only so many you can choose from.