What's Happening at The Washington Post?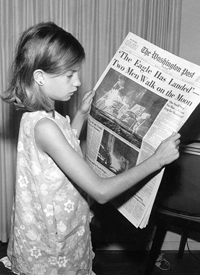 Jack Weir/Wikimedia Commons
Every month, two checks from BNY Mellon Asset Servicing arrive at my home for a total of $477.52, which represents my pension from The Washington Post. Considering that I left the newspaper in 1984, after 18 years as a reporter and editor, this small but welcome contribution to my income means that I remain attached to the company in the most concrete of ways: money. In 1996, when I was founding PublicAffairs, I thought each book we published should carry a tribute to three people for whom I had worked. The first was I.F. Stone, the great radical independent journalist whose assistant I was in the mid 1960s. The second was Robert L. Bernstein, the CEO of Random House who hired me as an editor when I left the Post and was also the founding chairman of what has become Human Rights Watch.
My third revered boss was Benjamin C. Bradlee, who led The Washington Post in all the years I worked there. Approaching Ben to ask about the use of his name on a dedication page was a daunting prospect. For all Ben's great attributes as a leader, I never thought of him as a sentimentalist, especially considering that by now I had already been gone from his employ for more than a decade, pretty much a generation in the newspaper business. Ben looked at me quizzically when I made my pitch but agreed. All he asked was that I not embarrass him. I assured him that I would do my best.
So from the time the first volumes from PublicAffairs appeared, they contained this salute to my former editor: "Benjamin C. Bradlee was for nearly 30 years the charismatic editorial leader of The Washington Post. It was Ben who gave the Post the range and courage to pursue such historic issues as Watergate. He supported his reporters with a tenacity that made them fearless and it is no accident that many became authors of influential, best selling-books."
I offer this background as explanation of how I approached the book released last week called Morning Miracle: Inside The Washington Post; A Great Newspaper Fights for its Life (Doubleday). The author is Dave Kindred, a gifted writer who made his name at the Post as a sports columnist in the 1970s and won, among other accolades, the Red Smith Award, which associates him with probably the greatest luminary in that category. Kindred's biography credits him with ten books before this one.
There is a considerable shelf of major books about The Washington Post. All the President's Men, released in 1974 may be the most popular book about journalism ever written, not only because of the excitement of the story it told, but because of the movie featuring Robert Redford as Bob Woodward and Dustin Hoffman as Carl Bernstein, forever young and valorous. Then there is David Halberstam's The Powers that Be, published in 1979 as an epic portrait of CBS, Time, Inc., The Washington Post Company, and the Chandler family's stewardship of The Los Angeles Times, which had declared its goal to be a West Coast rival to The New York Times. And finally, there is Katharine Graham's great Pulitzer Prize winning memoir Personal History, which portrayed the paper with a graphic candor that conveyed its glory days and every challenge it faced: the most serious of which was a battle with antediluvian craft unions that Mrs. Graham eventually won.
Double Day
All these books were ultimately about triumph. Morning Miracle: Inside The Washington Post: A Great Newspaper Fights for Its Life is the opposite. It is a fine piece of writing and reporting, but it reads relentlessly as a fin de siècle account of the newspaper on a downward slide that cannot be reversed. Kindred's characters are vivid: Don Graham, whose innately conservative business instincts nonetheless coincided with the Post's most profitable years, increasingly because of the money gusher that Kaplan Education Company, a casual purchase in 1984 turned out to be. Leonard Downie, who worked at the Post for 16,148 days until he was told to take a retirement buy-out, was as formidable an executive editor as Bradlee, but without the bravado. Robert G. Kaiser, another Post lifer who served as managing editor under Downie, said it best: "Ben created the Post. Len perfected it." In their heyday well into the 1990s, these leaders made the paper a true rival to The New York Times in the breadth and quality of its national, international, local, and cultural reporting.
And then with a speed that was breathtaking, the business model collapsed. Deborah Howell, then the Post's ombudsman called 2008, "a psychological nightmare." As Kindred writes: "There were the journalistic triumphs of six Pulitzers and wall-to-wall coverage of a historical presidential campaign. But there was an operating loss of $192.7 million, the newspaper division's first loss in 37 years as part of a publicly traded company."
So I'm going to end this piece in a way that some readers will say is too optimistic. I think The Washington Post is going to get through this crisis and is already on its way to doing so. The paper's financial losses have been dramatically cut.  The website (which needs it) is being reconfigured, and the paper itself has an elegant design. The team of publisher Katharine Weymouth, granddaughter of Mrs. Graham, and Marcus Brauchli, the executive editor she hired after he was maneuvered out of The Wall Street Journal by the Rupert Murdoch team, are young, smart, resilient, and committed to the new ways journalism today has to function. Just last week, the Post's Dana Priest and William Arkin unloaded their epic three part multi-media investigation "Top Secret America" that made news in print and on line and is as ambitious as anything the Post has ever done. As a pensioner, I can be rightly accused of bias. But I believe The Washington Post which Kindred correctly says is fighting for its life, is going to make it. And when that happens, I'll look forward to reading that book also.