'Jersey Shore' Season 2 Reviews: The Best Lines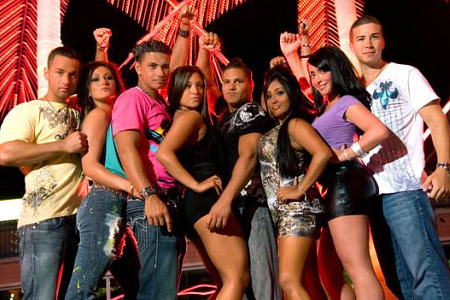 MTV
Snooki, The Situation and company make their return to television tonight (have they ever really left?) in the second season premiere of MTV's reality hit Jersey Shore. The press has been saturated with all things Guido and Guidette this week (poor Snooki), and now reviews of tonight's premiere are starting to trickle in. Most seem to find the show, at the very least, entertaining when not taken too seriously. With that in mind—fistpumps, everybody—here are the best lines from today's early reviews:
The TV Paige blog at Chicago Sun-Times begins a bit negatively...:
If someone asked me, "What's wrong with America?," I would probably answer, "Snooki Polizzi." It was around the time that Snooki was Twittering with John McCain about Obama's evil tanning tax that I realized things had gone too far.

...but starts to change its tune after a peak at J-WOWW's fresh new season two fashions:
J-WOWW, who is truly a busty marvel of nature, interviews while wearing a cocktail umbrella behind her ear.

The Washington Post finds comfort in Snooki's self-awareness:
Watching them quells some inner beast; they slap and scream and throw down so the rest of America won't have to.



Snooki: "I feel like I'm going to be like a tornado. I'm just going to go from place to place, destroying it."

That's it! Ah, wise Snooki -- she always knows: "Jersey Shore" brings a pleasure similar to those Weather Channel shows on which cameras chase disastrous storms and funnel clouds, bringing back actual footage of nature's wrath.

Entertainment Weekly is a fan of the premiere—and of analogies:
Like a flock of Ed Hardy-clad ducks, the ''guidos'' and ''guidettes'' of Jersey Shore have flown south for season 2. But don't worry, the core elements of what made Shore so fun its first season -- read: partying, tanning, fighting -- are in full effect.
While Capital New York reminisces about the cast, pre-stardom:
Snooki was earthy, big-hearted and a little desperate: a bright orange Miss Piggy who threw herself with abandon at any Gorilla Juice-head who crossed her path, and (literally) did backflips for attention. The Situation was a 27-year-old (that's like 90 in MTV years) who spoke about himself in the third person and harbored serious delusions of grandeur even though he lived with his parents. Viewers watched for the same reason they watched "Jerry Springer" in the 90s: for the joy of gawking, from a pleasurable anthropological remove, at people acting like animals. As Nancy Franklin wrote in The New Yorker, "[MTV] can give itself a pat on the back for enabling viewers to feel superior to at least eight other people."

Now that the critics have spoken, will you be watching?