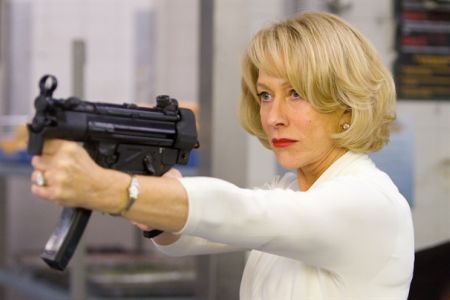 Summit Entertainment
In her long and fruitful career, Helen Mirren has almost always played a tough broad, whether in the bedroom, the police station, or the crime scene. She's often mixed up her hard-edged detectives with portraits of British queens or wicked schoolteachers, but I think she's at her best when she's playing someone with a genuine unpleasant or strange edge. In these roles, Mirren is who Angelina Jolie ought to actually want to grow up to be: someone for whom sainthood is an uninteresting consideration when there are bodies to be dug up or created in the first place. To do that, of course, Jolie would have to regain some of her former true voluptuousness (she's looking a bit skinny for my tastes), figure out how to convey that she's got a lust for life, and that she isn't simply enduring it.
But while Jolie's still playing it a bit pursed, it's with delight that I note that Mirren's got two older-lady asskicker movies coming up. Of the two, the more promising looks to be Red, where she plays a somewhat genteel older assassin. "I kill people, dear," she explains to an out-of-her-element Mary-Louise Parker, managing to avoid the sweet dirty old lady thing that Betty White so often falls prey to:
Then there's The Debt, which looks rather ponderous, but does suggest that if you grow up to be Helen Mirren, you'll get to correct and avenge your past mistakes, which I think is a dandy message for young girls everywhere.
Like I said, a little drab, right? Nazi-hunter movies aren't necessarily the worst thing, but if we're going to flash back to villains past because, Le Chiffre aside, we haven't found viable enemies of the modern age, I'll take the Red Menace over Nazis. The plot potential is just better.