Bethenny Frankel: Reality TV That Feels Real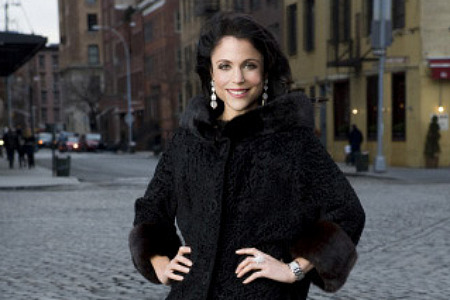 Bravo
So, I held off on reality television for an extremely long time, out of a snobbery that I've come to believe was misplaced. I'm watching Top Chef for work this season, and the competitions are impressive. I've checked out Dancing With the Stars with my grandmother, and it's pretty cool to see people learning something that's not natural to them, and execute it in front of an audience—that's a particular kind of courage. But my real conversion to reality television, in its most intense, revealing, unadulterated, let's-just-follow-these-people's-lives form, has come in the form of Bethenny Frankel.
I started watching The Real Housewives of New York about halfway through this season, and just completely fell for the slightly brittle, tough-but-pretty, chef and businesswoman who got pregnant and got engaged during the course of the show. And I've watching marathons of her spinoff show, Bethenny Getting Married? so I can catch up on episodes of that too. I think it's because it strikes me that Frankel's a model for a second generation of reality star. She's obviously aware of the drama of her day-to-day life: her non-relationship with her family, the tension in some of her friendships, the fact that she's intensely overworked, her pregnancy, her new marriage.
But the shows that follow her don't have her in an artificial situation, like moving in with a house full of strangers, or filming scripted fights that diverge from her actual relationships. And unlike the kids on Laguna Beach, The Hills, The City or the girls on Keeping Up With the Kardashians, Bethenny's grown-up.
There's something about seeing her deal with her specific issues that's more compelling than watching some pretty young things go through rites of passage. When she picks out her wedding dress, and declares that she doesn't want something that says "Let's be subtle, let's be 39," or when her fiancee asks what music she's playing for the baby and she tells him "Wallflowers and gangsta rap," there's a nice specificity about those details and how she's confronting the details of her situation. And there's a genuineness to her and the people around her, even as she's filming them, exposing them, performing her life.
When her mother-in-law to be takes her wedding dress shopping and declares "I waited for this day, I waited for this day," it's lovely, and sweet. There's a generosity to the older woman's declaration, "I hope we finally give her that family that she's been missing all these years." In her therapy sessions, Bethenny and her shrink are relatively clear that she's not going to achieve perfection. There are issues in her life that are never going to be resolved completely, be them her family, or her fears of commitment. Acknowledging that is a hell of a lot more subtle than flipping tables or cycling through youthful romantic drama. But it's real. And it's worth watching.