Aaron Sorkin Goes to the Dark Side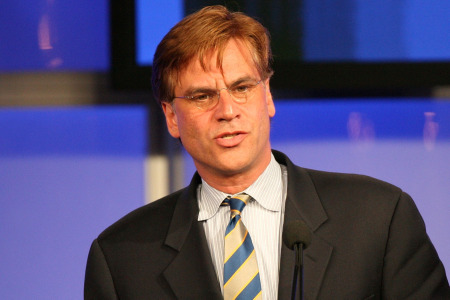 Frederick M. Brown/Getty Images
So, after writing one movie based on a highly dubious history about a morally crabbed but brilliant young man, Aaron Sorkin's going to write a movie based on a semi-dubious memoir about a morally crabbed but very smart middle-aged man? In other words, the guy who gave us The American President and The West Wing is about to do a movie adaptation of Andrew Young's The Politician? These are grim tidings indeed.
I will freely admit to not having made it until the very end of
West Wing
, though I did love the show's prime years, Sam and Josh,
Lisa Edelstein
in her late-gamine years
. The American President
doesn't remotely hold up as a vision of politics, though it's a wonderful grown-up romantic comedy. But in both of those works, Sorkin's optimism was, even when unrealistic, contagious, refreshing, an emotionally useful corrective to a souring politics.
So why is he turning his pen to darker visions? And not just darker visions, but stunted ones. Mark Zuckerberg and John Edwards don't soar—these aren't narratives of redemption. It's as if Sorkin couldn't sustain his faith that things would turn around and express it in fiction, and so he's turned to ugly true stories. I can't explain why that is. The Bush years? The failure of
Studio 60 on the Sunset Strip
? The failure of his screenplay for
The Farnsworth Invention
, his play about television's inventor, itself a highly fictionalized history (and if you're going to do that, might as well write
Carter Beats the Devil
) that never made it to the big screen and instead took to the stage, where it was basically panned? The only modest financial and awards performance of
Charlie Wilson's War
? Whatever the cause, it may signal a creative resurgence, but it's certainly a major change of vision.