Warning Labels for The Constitution?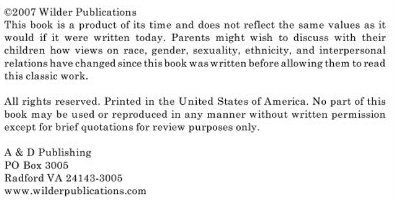 Wilder Publications, a small publishing house out of Virginia, has put warning labels on reprints of the Constitution, the Declaration of Independence, the Articles of Confederation, and the Federalist Papers reading: "This book is a product of its time and does not reflect the same values as it would if it were written today." OK...
The disclaimer goes on, as reported by FoxNews.com: "Parents might wish to discuss with their children how views on race, gender, sexuality, ethnicity, and interpersonal relations have changed since this book was written before allowing them to read this classic work." (And what about changing views of federalism and social safety net programs?)
So yeah, this is really silly. Books are products of their time. That's not a warning. It's self-evident. If you're going to print weird maxims like that before a document that includes anachronisms like the three-fifths compromise, you should do the same for every classic older than fifty years, from Invisible Man to The Odyssey (Warning: Cyclops, we have discovered, do not exist. Also, nobody sails from Turkey to Greece anymore, they just take Luftansa).