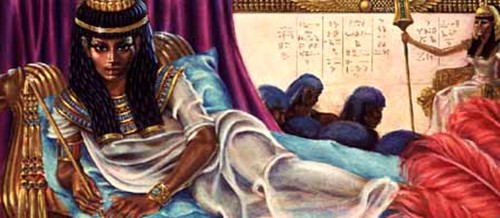 If you remember this picture, then you are, indeed, truly hood. This is Cleopatra, as countless black kids in schools across the country knew her. This is image was brought to us by the oddest alliance of all time--
black nationalism and beer
.
Anyway, Alyssa yawns at the casting of Angelina Jolie as Cleopatra. Jezebel highlights a few problems, among them, the suspicion that Cleopatra was not "white."
A couple of thoughts. It's worth exercising some care into reading America's very specific black/white dynamic out into history, and indeed out into the rest of the world. That said, the  racial dynamics of this country affect who gets work in Hollywood, and who doesn't. Business is a lot better than it was thirty years ago, but particularly with black women, it isn't very good. 
With that in mind, I don't think the problem here is that Angelina Jolie plays a women--in the very limited context of America--might not be seen as white. The problem is that my sense is that there really aren't many nonwhite women even in the discussions. Thus my questions would not so much be for the casting directors, but for the business as a whole, and for the people who support the business.
It's also mildly humorous that we're debating something that the actual Egyptians cared very little about, or rather didn't care about in the same way. America's Black/White split is an invention. Still, any day I get to remember Cleopatra as rendered in my Baltimore elementary school is a good day.