NBA Free Agency: A Primer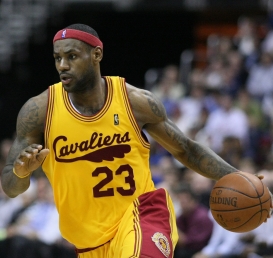 Keith Allison/flickr
Just how stacked is the NBA's free agent class of 2010? Let's put it this way: If you organized a pickup game between this year's free agents and the rest of the basketball world, the 2010 free agents would win. Going away.
We're talking about a squad that could start LeBron James, Dwyane Wade, Chris Bosh, Dirk Nowitzki and Amare Stoudemire, with Joe Johnson and Carlos Boozer coming off the bench (and yes, LeBron plays point guard on this de facto Dream Team.) The septet of superstars leads the best free agent class in league history and has a handful of large-market teams (led by the New York Knicks, Chicago Bulls, and Miami Heat) salivating at the possibility of adding multiple elite players.
The abundance of top players and cap-friendly teams has created a morass of scenarios that's left even the savviest NBA analysts scratching their heads. Consider the following breakdown from ESPN basketball experts Marc Stein and Chris Broussard.
Sources insisted, meanwhile, that other scenarios were discussed at the weekend meeting apart from the Miami plan. One source said James' admiration for Bulls legend Michael Jordan is such that he is determined to hear Chicago's pitch later this week, keeping alive the possibility that both James and Bosh could still wind up together with the Bulls.

In that scenario, sources said, James and Bosh would join Derrick Rose and Joakim Noah in Chicago, while Wade would hope to be joined in Miami by close friend Carlos Boozer, who was not at the meeting.

Sources said James, furthermore, has not ruled out staying with the Cavaliers.
Clearly, free agency in 2010 is chess, not checkers. So who's going where once the market officially opens on Thursday? Let's break down the free agents one mega-star at a time.
LEBRON JAMES
Old Team: Cleveland Cavaliers
Profile: Like you really need to ask. But in case you've been living under a rock for the last seven years, here are some mind-boggling CliffsNotes on King James: Two-time defending league MVP. Averaged 29.7 points, 7.0 rebounds, and 8.6 assists per game in 2009-10 (numbers not seen since the days of Oscar Robertson). Arguably the best natural athlete in the sports world. Only 25 years old.
Who wants him: Everyone. Literally everyone. We're about two days from the Cleveland Browns offering him a max contract to play outside linebacker or tight end.
Where he'll end up: Changes every day. At last count, LeBron was entertaining the notion of joining forces with Wade and Bosh in Miami to form a real-life version of the Mon-Stars. Last week he was all set to follow in Michael Jordan's footsteps and go to the Bulls. And there's still a chance that he'll make the sentimental choice and stay in Cleveland, or that the Knicks will make him an offer he can't refuse. Best guess? Chicago.
DWYANE WADE
Old Team: Miami Heat
Profile: The shooting guard is one of the most dynamic offensive players in the game. Exhibit A: his 46-point, five-rebound, five-assist magnum opus in Game 4 of Miami's first round series against the Boston Celtics this year. Wade has been injury-free for the past two years, and the 28-year-old should be an offensive force for years to come if he stays healthy.
Who wants him: Any team would love to get their hands on Wade, but the Heat is putting on a full-court press (pun intended) to keep its star in Miami. The New Jersey Nets are planning to meet with Wade on Thursday, and new owner Mikhail Prokhorov has limitless pockets.
Where he'll end up: Miami. There's too much potential for the Heat to improve and too much sun in South Beach for Wade to be content playing in Brooklyn for the rest of his career.
CHRIS BOSH
Old Team: Toronto Raptors
Profile: Bosh is the best offensive big man in the NBA not named Pau Gasol. The lanky power forward averaged a career-best 24.0 points and 10.8 rebounds a game for Toronto last season and has proven he can score at will in the low post. But whether Bosh can be the best player on a championship team remains an open question.
Who wants him: The Knicks, Bulls and Heat have emerged as frontrunners to land Bosh. But the overwhelming sentiment among league insiders is that Bosh wants to follow LeBron to whatever promised land he chooses.
Where he'll end up: Wherever LeBron goes. In this case, the book on Bosh is absolutely correct. He's talented, young, and not inclined to be the alpha dog on an elite team. And if dedicated second fiddle is indeed his goal, the best place to be is at LeBron's side.
AMARE STOUDEMIRE
Old Team: Phoenix Suns
Profile: At his best, Stoudemire is a monster inside, a terror on the pick-and-roll who dropped 42 points against the Lakers in Game 3 of the Western Conference Finals. At worst, he's injury-prone (played just 53 games in 2008-09) and liable to disappear offensively for long stretches of games.
Who wants him: The Knicks have expressed serious interest in Stoudemire, and they have the ability to offer him a max contract. The Heat, who nearly acquired him at the trade deadline in February, remains interested as well.
Where he'll end up: New York. The Knicks could sit tight and wait for Carmelo Anthony to become a free agent in 2011 if they fail to acquire LeBron or Wade. But they won't. Stoudemire is too enticing for general manager Donnie Walsh to pass up, and the big man will jump at the chance to earn max money in the Big Apple.
DIRK NOWITZKI
Old Team: Dallas Mavericks. Technically, the Mavs are his current team, but Dirk has just opted out of the final year of his contract.
Profile: The best foreign player in the league (yes, better than Gasol), Dirk is a deadly forward who can beat defenders with outside shots and his unstoppable fallaway jumper. The seven-foot German is the model of consistency--he's averaged at least 21.8 points and 7.7 rebounds per game in every season since 2000.
Who wants him: The Mavs are at the front of line. Nowitzki's move is widely viewed as a ploy to spur Dallas to add a top free agent, or failing that to get a max contract. But if owner Mark Cuban decides to let Nowitzki walk, any NBA team with significant cap room will be interested in signing the perennial All-Star.
Where he'll end up: Dallas. "Dallas is still the overwhelming favorite to employ Dirk in 2010-2011 and beyond, as has been articulated by both team representatives (via Donnie Nelson, Mark Cuban, Rick Carlisle, Jason Kidd, etc.) and Nowitzki himself (who has said he'd love to retire a Maverick)," writes Rob Mahoney at NBC's basketball blog. "So in all likelihood, Dirk's opt-out simply means the beginning of a new, multi-year deal that would keep him with the Mavs." Agreed.
Old Team: Atlanta Hawks
Profile: On paper, Johnson is a great get for any NBA team - a tall (6-foot-7) shooting guard who's averaged at least 20 points per game in each of the last five seasons. But when Johnson disappeared down the stretch in playoff games this spring, it raised red flags among analysts who question his ability to be an elite team's primary scoring option.
Who wants him: The Knicks and Mavs have shown the most interest, but any team that misses out on LeBron/Wade/Bosh will be curious at least.
Where he'll end up: New York. As much as it pains me to say it. My hometown Knicks think signing Johnson quickly will make them more enticing to the big fish, especially LeBron (I disagree). And they consider a duo of Stoudemire and Johnson to be an adequate "consolation prize" if they fail to land LeBron or Wade, which is looking increasingly likely. I doubt New Yorkers will share their rosy outlook.
Old Team: Utah Jazz
Profile: A big, bruising power forward who's lack of height (he's just 6-foot-9) is offset by his physical play, Boozer has been good for 20 points and 10 rebounds a game for the last four seasons. But he's missed significant time due to injury in three of the last six years and struggles to match up with the NBA's elite big men.
Who wants him: Miami is a leading candidate, if only because Boozer and Wade are longtime friends. The Nets and Bulls have expressed some interest, but the buzz surrounding Boozer is tepid compared to the other big free agent names.
Where he'll end up: Miami. Because if LeBron and Bosh go to Chicago and Stoudemire and Johnson go to New York, the Heat will have to get somebody to keep Wade from jumping ship.