More on Seeing Big Servers in Person
That's tennis-type servers, not network-type. Previously here. A reader who has seen Wimbledon matches in person, as I have not, writes:
I would say that your viewing of Isner actually understates the situation. If you ever have a chance, take a look at him (or some other boomer) up close on grass!

25 years ago I was wandering around the side courts at Wimbledon and caught the South African Kevin Curren, "only" 6' 1", serving and destroying Stefan Edberg. My reaction was "his first serve is literally impossible to return, it can't be done." It turned out, I was right. Curren was in a groove and didn't lose a service game en route to the finals, blowing away not just Edberg, but then McEnroe and Connors.

His performance in the quarters and semis was incredible:

Then he ran into Becker in the finals, and started missing his first serve, and that was that. He's now mainly forgotten. It was about five days of fleeting brilliance.

My learning from this was, if a guy with a big serve just winds up and fires on grass, and can hit them with about 60-70% (I'm guessing, there), or more accuracy, he wins his service games. It doesn't matter who's across the net. It defies human capability to hit it back.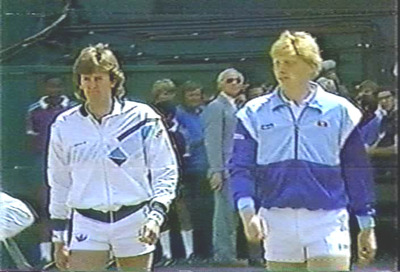 The Isner-Mahut match, with 183 service games and (I think) only three service breaks, illustrates the reader's point. As for Kevin Curren -- at left above, entering for his finals against Boris Becker at Wimbledon -- he was on the University of Texas tennis team while my wife was in graduate school there, and I would sometimes see him play when I was at the university courts. We were also living in Austin when Roger Clemens was a pitcher for the UT baseball team. Hook 'em, Horns! Go, student-athletes.