'When I Was a Girl Named Monica...'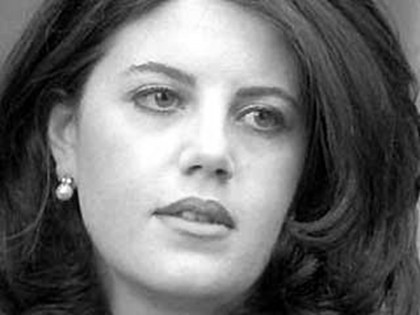 We will watch each other age

in front of cameras, in newsprint,




a public decay. It's already started.

Look at my new sway;




my body seems more ample

among the miniature shampoos,




the thin rectangles of wrapped soaps.

Look at the pale shifting of my skin




under the red eye of the ticking heat lamp.

And I've noticed your hair's gone white,




your face loosening.

                 I'm shocked




how can you still appear--

not televised, not some public memory




of the two of us swimming valiantly--

but the intimacy of teeth,




              breath and breathing.

And I carry you sometimes




              for a day or two,

like a bird hidden in a pocket




               and I imagine

that you know how I live.




     And while the bird shifts

and rustles and keeps one wet eye




on my life, I am more purposeful,

I stride.
But today you see me here naked
standing in front of this hotel mirror.

You are someone who knew me before
I was the world's collective joke

about cigars, thongs, stained dresses,
when I was a girl named Monica.

I miss her much more than I miss you.
The riff about the bird is just gorgeous. Julianna's site is
here
. This piece is called "Monica Lewinsky Thinks of Bill Clinton While Standing Naked in Front of a Hotel Mirror."
I posted
Julianna's piece
on Mary Todd Lincoln last week, mostly because that poem clawed its way into my skull almost ten years ago, and will not leave. This is the great thing about art--it enables people who you do not know to touch you in ways that usually only people you know can. And that power survives even death. I have been thinking about that "I know how I will die..." riff in the Mary Todd poem for, literally, years.
I had the pleasure of exchanging a few nice notes with Julianna. It's nice to be able to tell people when, and how, they've gotten to you. All the poems in the book are written in the voices of seemingly "tragic" women. But Baggot empowers them with agency. The sadness is still there. But the taint of victimhood is gone.
It's an amazing feeling, as a dude. It's like trying on different masks.