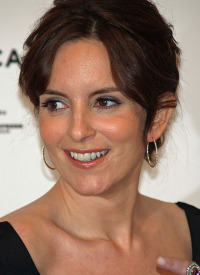 David Shankbone/Wikimedia
Tina Fey is spectacularly funny and has already had a remarkable (and positive) impact on our politics and culture. She is clearly establishing a legacy for herself as a landmark comic figure.
But the
decision just announced
by the Kennedy Center to give Fey this year's Mark Twain Prize for American Humor is silly. Here are the past award winners:
·  1998 - Richard Pryor
·  1999 - Jonathan Winters
·  2000 - Carl Reiner
·  2001 - Whoopi Goldberg
·  2002 - Bob Newhart
·  2003 - Lily Tomlin
·  2004 - Lorne Michaels
·  2005 - Steve Martin
·  2006 - Neil Simon
·  2007 - Billy Crystal
·  2008 - George Carlin
·  2009 - Bill Cosby
"It does change the paradigm a bit," acknowledged Mark Krantz, co-executive producer of the event, to the
Washington Post
. He followed this with some rather implausible spin: "A lot of people felt it was a lifetime achievement award for an old person. It never has been. It is a prize, really, about somebody's depth and talent."
Nonsense. Of course this has, up to now, been a nearly-lifetime achievement award. Of course they are pivoting toward the now. Which is fine. But don't pretend otherwise. 
____________
Thanks to Kurt Hirsch.