The Father of Newsweeklies and His Troubled Legacy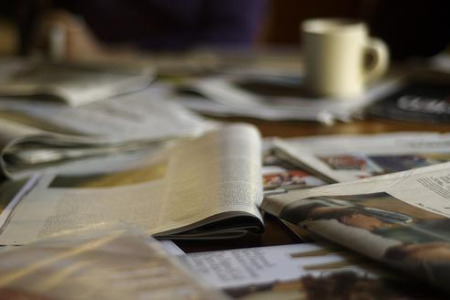 JesC/flickr
Alan Brinkley's epic new biography, The Publisher: Henry Luce and His American Century, has been widely and rightly praised for its breadth, depth, and fine writing. Luce was a complex, even tormented man, whose instincts for journalism, business, and the mood of America in his time were so acute that his magazine enterprise—led by the flagship, Time—is still a major force decades after his death in 1967. The impact of Brinkley's book has been boosted by its release at a moment in which the "existential" nature of the printed magazine (to quote Newsweek's editor, Jon Meacham) is being tested as never before. When asked about his prescience, Brinkley notes that he is the beneficiary of having taken much longer to write the book than he anticipated. Brinkley is the Allan Nevins Professor of American History at Columbia, served as the university's provost, and is the chairman of The Century Foundation (where I am a senior fellow).
There is welcome serendipity to having a meticulous account of the origins and rise of the news magazine (and its off-shoots—Fortune, Life, Sports Illustrated, and shortly after Luce's death, People) at this moment. The book provides invaluable perspective to the current embattled status of the category. While stylistically updated in their printed versions and supplemented somewhat awkwardly for the Internet, magazines remain clearly the descendants of what Luce and his partner, Briton Hadden, conceived at Hotchkiss and Yale in the 1920s. In fact, the early Time was what would today be called an aggregator: news re-crafted from other sources as a digest, but with a minimum of original reporting.
The story of the evolution of Time and later Fortune and Life shows how Luce and his editors adapted their ambitions to the resources they accumulated, the benefits of technology, photography, and public fascination with unfolding history, especially war, business, and celebrity. Just last week, Time published its annual 100 most influential people in the world issue and celebrated the occasion at a lavish dinner for which dozens of the honorees showed up, with Sarah Palin clearly a top draw. Time continues to see significant benefits to its brand and bottom line by staging highly visible markers, such as "Person of the Year," in ways Luce would have appreciated.
A year ago, writing about the re-design of Newsweek (about which more in a moment) I surmised that, given the terrible state of magazines generally, Time must be losing money. Rick Stengel, Time's editor, stopped me at a party a few days later and said I was wrong. After extensive cutbacks in staff and once generous perks, he told me, Time is solidly profitable.
Time's revenues, as I understand it, are embedded in the broader numbers of Time-Warner's publishing division, which is buoyed by the continuing enormous success of People, the company's financial juggernaut. Time no longer has the vast staff of correspondents and writers it did at its peak. In fact, the magazine is much like its early version: resourceful gambits by a small group of editors able to make a splash with creative packaging. So Time forges ahead despite a cloud of assumptions about its demise, or at least, its inexorable decline.
The decision by The Washington Post Company to sell off Newsweek because, as Chairman Donald Graham put it, there is no foreseeable "path to profitability," was clearly a judgment of bitter business reality over sentiment, given how closely aligned with the Graham family Newsweek has been. Hopefully a buyer will be found for the magazine, but the damage to its identity has been profound. A turnaround in new hands will be a daunting task. U.S. News, as it is now called, is a website, and what's left of the magazine shows up monthly with little discernible effect except when it rates colleges, universities, and hospitals.
And yet, there is a counter-narrative. Bloomberg is re-inventing Business Week with 20 percent more content and the potential input of its enormous news staff under the direction of Norman Pearlstine, who ran both the Wall Street Journal and Time, Inc., publications with skill and impressive energy. Finally, and flourishing, are The Economist and The Week, which have devoted fans and solid returns, again, by doing what Luce did in the 1920s: collecting news and repurposing it to an audience that is big enough to support the effort. All of these publications have a digital strategy, of course, but unless I'm missing something significant, they still see their printed versions as the centerpiece of what gives them stature.
Much of Alan Brinkley's The Publisher is about Henry Luce's personal story and his role as a shaper of America's political and cultural sensibility in the 20th century. But Luce's distinctive genius was as a gatherer and presenter of news and information. Troubled as that legacy now is, that it remains viable at all is a measure of his great contribution to journalism for the masses on a scale never before achieved.
Afterword: Brinkley's acknowledgments for The Publisher begins with thanks to Ash Green of Alfred A. Knopf, "my editor and friend of thirty years." Green is officially retired now, but his role at Knopf as editor of works of lasting consequence over the decades endures with the publication of this terrific book. Here's to you, Ash.