Of Course Gay Actors Can Play Straight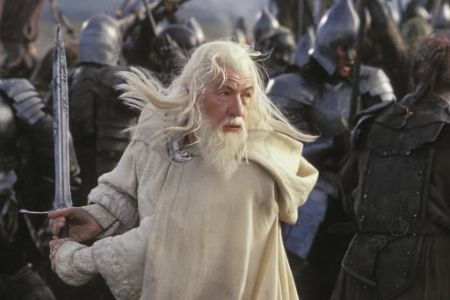 New Line Cinema
Newsweek's Ramin Setoodeh wrote an article a few weeks ago arguing that gay actors had a hard time playing straight people, and the outcry basically broke the Internet. Blogs ripped Setoodeh into confetti. Actress Kristin Chenoweth called him "horrendously homophobic." Glee creator Ryan Murphy called for his fans to boycott Newsweek.
Setoodeh's argument was silly. The response was silly, too. Setoodeh saw a play called Promises, Promises starring Sean Hayes (the best friend from Will & Grace) and didn't think Hayes was a convincing straight guy. Also, he watched an episode of Glee and thought another gay actor playing straight came off like a "theater queen." In the real world, two unconvincing performances in a week is, you know, two unconvincing performances in a week. For Setoodeh, it was part of a larger trend: gay actors can't play straight!
He probably should have kept the thought to himself. Or rented Return of the King. Gay actors play straight all the time: Neil Patrick Harris in How I Met Your Mother; David Hyde Pierce in Frasier; Ian McKellen in Lord of the Rings, and X-Men, and everything.
Gay actors face serious challenges in film and television. The last thing they need is Newsweek knocking their chops because a couple of them weren't sufficiently macho in musicals some guy saw last week.
But the response to Setoodeh's article has veered into weird territory, too. West Wing writer Aaron Sorkin, in an articulate piece, challenged the idea that "playing gay" is even a thing.

An actor, no matter which sex they're attracted to, can't "play" gay or "play" straight. Gay and straight aren't actable things. You can act effeminate and you can act macho (though macho usually ends up reading as gay), but an actor can't play gay or straight anymore than they can play Catholic. The most disturbing thing to me about this episode is that the theater critic for Newsweek didn't know that.

Oh, come on. You can't say gay isn't actable in the same sentence you say overly macho acting reads as gay. Either there exists a certain set of characteristics, expressions, and vocal modulations that can indicate sexual orientation to an audience or there aren't. And it's pretty clear that there are.
When Ricky Martin told the world he was gay, the Internet's collective reaction was some variation of: "duh." We didn't know Ricky. Why were we so certain he was gay? Well, we just ... knew! It was the way he ... danced? ... sang? ...shook his bon bon? Who knows. But it turns out there's a science behind what some folks call gaydar. One study found that 75 percent of gay men sounded gay to a general audience over tape-recordings. The biological and cultural implications of that finding deserve a fuller treatment, but for the purposes of our discussion, suffice it to say that it is a finding. Gaydar detects some sort of gendermap of characteristics that can indicate homosexuality. And actors draw on this "gendermap" of characteristics to play gay -- or straight. Is it terribly homophobic to point that out?
At the heart of Setoodeh's piece is idea that gay and straight people act a certain way, and that actors who are well-known to be gay might have a higher bar to clear to be persuasively hetero. I don't disagree.