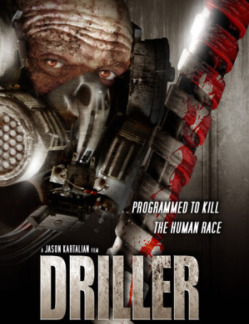 Viewfinder Entertainment
I've never had my arm torn off by a stripper, and then been beaten to death with it. But my college buddy Jed has. Jed Rowen is a B-movie horror actor, and a damned fine one. He excels at playing zombies. Atlantic readers will recall him from my profile last September, "Inbred Jed: The Strenuous Life of a B-Movie Zombie." I'd lost touch with Jed a little while after college, but made a point to get back in touch after someone emailed me a clip of his bravura performance in "Zombie Ninja Gangbangers." (For the record, he has broad range as an actor--that's him over to left on the cover of "Driller" in which he plays a psychopath who runs around killing people with a great big...well, I won't give away the plot. Rent it.)
As part of my reporting, I traveled with Jed to the annual Horrorfest convention in Denver last year, where he was scheduled to appear as a celebrity guest and speak on a bunch of panels. I pretty much just hung around and absorbed the scene. It made for an interesting article--poignant in its own small way, I thought--and also made a nice break from politics after an endless campaign. Perhaps not surprisingly, the piece drew an unusual following, much different than the feedback I get from my political stuff--although there was some surprising overlap. Fans of Inbred Jed turned out to include one senior aide to a former President of the United States. (I'm not telling.)
Jed is back and starring in a new movie, "Dahmer vs. Gacy." It is directed by Ford Austin, and premieres at this year's Horrorfest, which is part of the larger Starfest convention being held in Denver this weekend. (Here's the poster. Jed is the bullet-headed guy at the bottom, just southeast of Admiral Ackbar from "Star Wars," who's evidently also going to make a celebrity appearance.) If you're in the Denver vicinity, open to new experiences, and have a strong stomach, you should consider dropping by and saying hello to Jed. He's much less scary in person.
When I joined Jed at last year's Horrorfest, he was previewing the trailer for "Dahmer vs. Gacy" to a very enthusiastic audience of gore fanatics, who were done up in gruesome-looking costumes. It's a strange scene if you're not down with that stuff. I still get nightmares. But they seem to have a good time. And they got along famously with the sci-fi fans from Starfest, so there's bipartisanship, too. Jed sent along the latest trailer to share with Atlantic readers and show them what he's been up to. I'll embed it below. I'm going to go out on a limb and suggest that it is NSFW. There's no nudity. But I counted at least one capitation and lots of blood. So unless you have a very understanding or demented boss, maybe best to watch this one at home, and don't say I didn't warn you:

For anyone concerned about my sanity, I hadn't intended to veer off into weird stuff today. Just seemed like fun. I'll return to wonkery on Monday. Have a nice weekend.