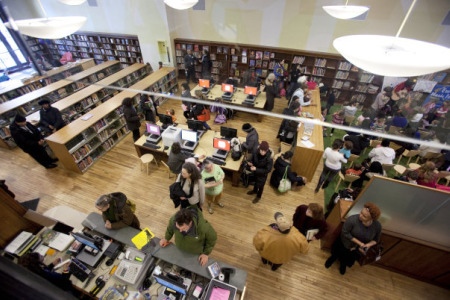 Jori Klein Jacobs/Facebook
The St. Agnes branch of the New York Public Library is located at 444 Amsterdam Avenue, between 81st and 82nd streets. Nearby, on Central Park West, are fancy high-rises. Amsterdam Avenue and the side streets have a less glamorous mix of brownstones and neighborhood shops that, while upgraded some, still have the feel I remember from the 1950s when I would make a weekly visit to St. Agnes for a stack of history books aimed at pre-adolescents, especially Random House's Landmark series. St. Agnes opened in 1906, one of the original 30 branches of the New York Public Library funded by Andrew Carnegie, built in the classic design of architects Babb, Cook and Willard. Carnegie's establishment of the national library system remains one of the great philanthropic gifts in our history.
About 15 years ago, I visited Homestead, Pennsylvania, which had just endured the shutting down of U.S. Steel's largest foundry. Homestead's library, funded by Carnegie and built on a hillside in the town center, was practically its last vestige of dignity, because it had an endowment and could serve as a repository of information about welfare and other government programs.
The St. Agnes story is much more upbeat. Beginning in 2007, the building underwent a $9.75 million renovation using a combination of city-provided funds and private gifts, including one from the family that owns Zabar's, the legendary delicatessen and gourmet food store around on the corner on Broadway. The building reopened in February. With all the transformation under way in the book world, I wondered what that change meant in a community institution I once knew so well. The renovation has maintained the classical façade of the building and much of the internal woodwork, but the interior spaces have been adapted to be ADA-compliant and now have large back windows and skylights.
One surviving feature I recalled from my childhood is the iron stanchions at intervals along the banisters to prevent a challenging but dangerous slide down the three floors of marble stairways. There is plenty of space for reading groups, community activities, performances, and a literacy training center open to the public for adults wanting to achieve sixth-grade reading level. Steve Mahoney, the literacy site adviser for the State Department of Education, said that before the renovation he was serving about 120 students, mainly Hispanic. He is rebuilding the class now, but said the composition had shifted largely to West African immigrants. The course can last up to nine months and also includes volunteer mentors.
The library manager is Margaret Willis, who was born in Jamaica and trained in library science at Pratt Institute. The regional supervisor for northern Manhattan is Caryl Soriano, another Pratt graduate, whose family emigrated from Trinidad. They handed me a clutch of brochures on upcoming events: a performance of Shakespeare's A Comedy of Errors, presented by a local troupe called the Instant Shakespeare Company; a discussion session about the essay titled "Hellhole," by Atul Gawande, from the New Yorker, concerning the use of long-term solitary confinement; a book discussion group (the novel for April is The Door, by Margaret Atwood); and a visit by Abby Stokes, an author who has written about mastering computers.
But what interested me most was the range of books on offer for children and adults, and whether they were available in multiple formats. So they were. There are dozens of desktops and laptops in the building with Wi-Fi, enabling Internet access and the downloading of e-books from the New York Public Library's digital vendor, OverDrive. I noted the many recent bestsellers by authors such as Tracy Kidder, the late Senator Edward Kennedy, Andre Agassi, Richard Dawkins, and Terry Teachout, the biographer of Louis Armstrong. At the top of a stack of returned DVDs was the Oscar-winning The Hurt Locker. I did wonder how much demand there was for the memoirs of Illinois's indicted governor, Rod Blagojevich.
It was among books for children that I noticed the biggest change from what I remembered, best illustrated by this anecdote. In 1958, Robert Penn Warren wrote a landmark entry called Remember the Alamo. In the 1980s, when I was working at Random House, I thought about re-issuing these books of Americana I remembered so warmly. But when my assistant read the Warren book, she found that this great 20th-century writer referred to the Alamo attackers as "savages," which seemed to rule out the book's suitability for today's readers. Instead, the shelves are crammed with biographies of Marcus Garvey, Frederick Douglass, Jackie Robinson, Sojourner Truth, Nelson Mandela, and, of course, Martin Luther King. Some of the Landmark series still exists (Jefferson, Lincoln, Franklin, Thomas Edison) but I'd bet that it has been scrubbed of crude racial characterizations and other awkward insensitivities. As with so much else in our society, a respect for multicultural identity turns out to be a dominant library theme. St. Agnes, like all public institutions, has to contend with the vagaries of state and city budgets. The cozy but shiny renovation on Amsterdam Avenue will doubtless weather the pressures on resources and a changing community, as it has for a century. Long may it serve.