Will the Olympics Save Professional Hockey?
The U.S. wasn't able to pull off another upset over the Team Canada juggernaut, and, while this comes as a personal disappointment, it's not a huge one, and here's why: for the past few days I've been plotting my return to pro hockey fanhood. Jeremy Roenick's unconcealed giddiness as an NBC analyst was apparently contagious—for the first time since the 2004-2005 lockout that left me jilted and apathetic about the NHL and its 5,756 teams, I am finally going back.
The question is: will any other fans, besides me, get turned on to the NHL by the 2010 Olympics and the USA's run? Will the league—which takes a full-on backseat to the NFL, NBA, and MLB in terms of national standing and consideration lent by the sports media—see a boom?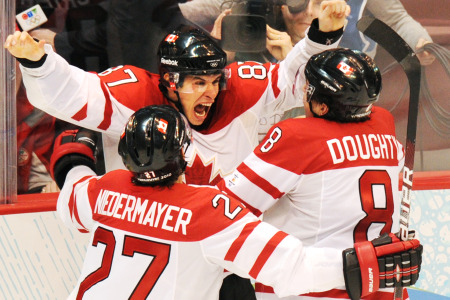 Yuri Kadobnov/AFP/Getty Images
The answer is maybe, though the NHL wasn't really expecting one. "Attendance historically increases monthly, so it would be impossible to attribute an increase [to the Olympics] unless it is off-the-charts big," league spokesman Frank Brown said over e-mail.
Brown will also tell you that the NHL doesn't particularly need a boost. "The quality of play—and the quality of the players—has never been higher and the current generation of stars portends a blindingly bright future," Brown wrote.
And it's true. In Washington, Alexander Ovechkin has been dominating the sport like no one has done in some time—dragging the puck through his skates, and the skates of others, with a brutish kind of skill that actually makes me think about my own mortality—though the Pittsburgh Penguins' Sidney Crosby may have something to say about claims of Ovechkin's primacy. The league has legitimate stars and a legitimate fan base to follow them.
The NHL has actually prospered attendance-wise since the labor disagreement and eventual lockout that meant no hockey in 2004-05. In the three years leading up to that awful nadir, regular-season attendance had been on the decline; but the league bounced back when players returned, with attendance up by 500,000 in 2005-06, and the figure has risen in every season since, to 21.4 million in 2008-09.
The last game I watched in person was in January of 2009, when I went with a couple friends to sit in the nose-bleeds at a St. Louis Blues game. The atmosphere was amped-up—as amped-up as it ever had been in the glory days—and the Scottrade Center felt like a blue-collar South St. Louis bar. The beer selection was thoroughly enjoyed, as fans got a rowdy buzz on in the cold air. I saw at least one St. Louis Blues tattoo. It brought me back.
Still, the league isn't what it was in its 1990s heyday.
There are few nationally televised games (which air on NBC), one mark of a sport's popularity and influence on American culture. If you want to watch a hockey game, your best bet is local-cable sports programming, or one of the regional Fox Sports channels, unless you've got a cable package that includes Versus or the NHL Network.
The voracious expansionism of Gary Bettman's era as commissioner—which I've begrudged profoundly, and am only now coming to terms with—meant round upon round of new teams in strange places. Expansion was cool when it was the San Jose Sharks in 1991 and the Ottawa Senators and Tampa Bay Lightning in 1992, marginally less so when it was the Anaheim Mighty Ducks and the Florida Panthers in 1993 (though the stellar play of Paul Kariya and Jon Vanbiesbrouck made it all worthwhile).
The NHL's terrible thirst for new markets slept, thankfully, for five years, and then came the Nashville Predators and Atlanta Thrashers in 1998 and 1999. By that time, there were teams in Dallas, Phoenix, and Raleigh, NC, too, and the NHL found itself in places and climates better fit for spring training baseball. The coup de grace came in 2000 with the addition of the Columbus Blue Jackets and Minnesota Wild.
In a matter of nine years, the NHL grew from 21 to 30 teams. It was too much for a purist to take. In 2004, I stopped being an NHL fan, straining but failing to follow the Blues, which had been a gigantic part of my life for a long, long time. I painfully accepted that there was less room in my heart for hockey and flew from the sport like the doomed iridescent tail of a FoxTrax puck.
But that's changed for me, and I suspect it will change for a few others too. The preliminary-round upset over Canada in this year's Olympics brought me back into the fold, and the gold-medal-game loss, despite the agony and frustration of Sidney Crosby's sudden game-winner, reminded me of what it's like to anticipate and care about a big-time game.
The last time I'd watched a USA-Canada Olympic game was in 2002, when I had to wander through the halls of my dorm at Duke University looking for someone who would turn a single TV away from the Duke men's basketball team, which was running up the score by 25 on Clemson.
"For the love of God!" I said to myself. "It's USA-Canada. Who in their right mind would be watching a regular-season ACC blowout over this?"
I finally found a group of Canadians, holed up in one room at the other end of the building and watched with them as USA fell 5-2 and Canada took the gold. It was a terrible experience; their cheers still haunt me, and it was a bitter memory of my previous life as a rabid hockey fan.
But now a new generation of hockey players has risen, and, with them, new reasons to follow the sport. Along with veterans like Jamie Langenbrunner and Scott Niedermayer, the USA/Canada game saw new stars in goalie Ryan Miller, Crosby, and Ryan Kesler. As a Blues fan, the performances of Erik Johnson and David Backes got me interested in the team; I wouldn't be surprised if off-and-on Chicago Blackhawks fans feel the same way about Patrick Kane.
NBC broadcasts NHL games throughout the season, and they'll televise a game nationally next Sunday, when the Detroit Red Wings play the Blackhawks. If the ratings go up, it's a good sign that the Vancouver games have brought more attention to the sport.
For someone with a tangential relationship to the NHL—even someone like me, who collected hockey cards as a kid, played hours of NHLPA '93 on Sega Genesis and street hockey with friends even through college, before the expansion rounds and the devastating lockout caused a rift—the 2010 USA Olympic hockey team has produced reasons to care about hockey again.
We'll see if it holds up for the playoffs.