Tommy Mischke on the phone
The subject of a September 2000 Atlantic profile is back with more of his surreal Midwestern real-life humor. This time, the pathos of bill-collectors during hard times.
Ten years ago I did an Atlantic profile of T.D. "Tommy" Mischke, a late-night AM radio humorist from St. Paul who kept me amused on many dark drives from The Cities to Duluth, for a book I was working on. Below, Mischke in action, then on KSTP-AM.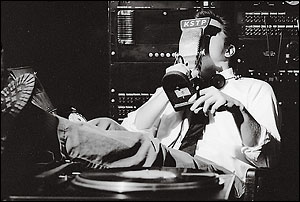 ___
Tommy Mischke's note about these recordings:

From my original article,

An apparently complete archive of Mischke's radio and internet broadcasts is here.