Tiger Woods to Make Big Return at the Masters
The disgraced golfer will go back to the course for the tournament where he had his first major win more than 10 years ago.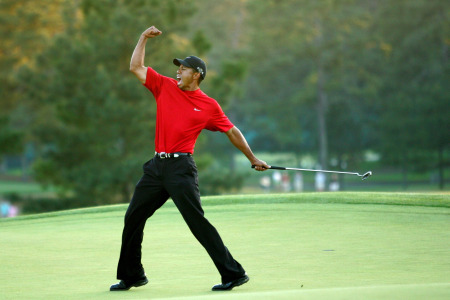 Jamie Squire/Getty
A phrase that Tiger Woods clearly values: Go big or go home.
While many believed Woods would make his return to gold at the Arnold Palmer Invitational later this month, it turns out he will re-emerge at a tournament close to his heart and sacred to golf: The Masters at the Augusta National Golf Club, which runs this year from April 5 to 11.
"The Masters is where I won my first major and I view this tournament with great respect," Woods said in a statement. "After a long and necessary time away from the game, I feel like I'm ready to start my season at Augusta. The major championships have always been a special focus in my career and, as a professional, I think Augusta is where I need to be, even though it's been a while since I last played."
If there's any relationship that Woods really values and cherishes, it's his love affair with the Masters tournament. Having won his first elusive green jacket in a history-making triumph in 1997, he proceeded to win the event three more times. With that glowing past and the strictly enforced security measures, media credential checks, and privacy of the club and tournament, the stage is all set for Woods to get back to what he does best.