Rosie O'Donnell's Return to Daytime: Will it Work?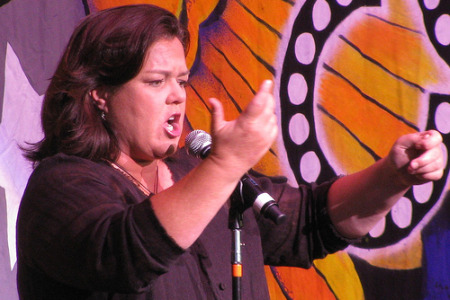 Dan Cox_/Flickr CC
Rosie O'Donnell is reportedly planning a return to daytime TV next year, but it's not likely to be the same show that dominated airwaves in the late 90s and early 2000s with performances from Broadway musicals and declarations of love for Tom Cruise.
It's been eight years since Rosie has hosted a talk show, and a lot has changed from the time she was considered the "Queen of Nice." Not only is Tom Cruise is now synonymous with "crazy" and not "dreamy," in the last few years Rosie's outspoken politics have taken over her persona more than anything else. While her short run on The View from 2006 to '07 brought about a surge in ratings for the show, she frequently found herself battling it out with both her co-hosts and the media due to her attacking style and impassioned comments. And while her charity efforts and foundations have been a mainstay in her career, her other efforts in entertainment haven't been as fruitful: she famously supported and produced the Boy George musical, Taboo, which was a huge flop on Broadway, and hosted a failed primetime variety show on NBC.
With Oprah scheduled to leave her show in 2011, it appears O'Donnell sees this as a prime opportunity to make her comeback in the talk show sphere. The New York Times reports that she is teaming up with former Warner Brothers execs Dick Robertson and Scott Carlin, forming their own company, and thus gaining more control in her brand and allowing her "to be her own boss." Both Robertson and Carlin were involved in launching the original Rosie O'Donnell Show in 1996.
Whether or not Rosie will be able to reclaim the kind of appeal she had back at her old post is hard to say, but critics seem to agree that she could carve a substantial presence in the cable world:
O'Donnell is staying "true to herself," says Hollywood Reporter. Noting that the comedian's decision to take the show outside the studio system might indicate more of her hard-hitting style featured on The View, HR said that O'Donnell may find more of a home in cable. "'Cable likes controversy and defined personalities with a strong point of view, a leading syndicator said.'"
"She's a bit like the Howard Stern of daytime talk-show hosts," writes TV Squad. On whether or not Rosie will be able to fill in the gap that Oprah will leave behind her upon exiting the daytime circuit, TV Squad says "that could be just what the industry needs. If they tried to get an Oprah clone, people would criticize that the networks weren't imaginative. On the other hand, if Rosie got Donald Trump as a guest, it would be a ratings bonanza."
"O'Donnell is not planning a political show," insists a source quoted in the LA Times. "Instead she wants to do a show that can cover issues and entertainment much the way Winfrey does issues. She could recapture her old magic. However, it would be foolish to deny that she will need to resell herself to the public if in fact she wants to do a broad daytime talk show."