NCAA Tournament: 6 Things to Watch at March Madness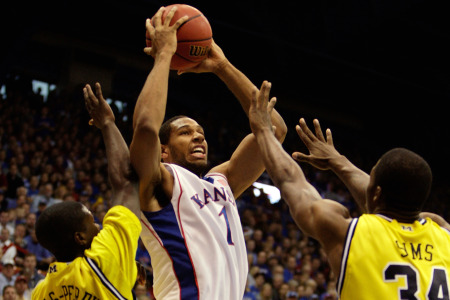 Jamie Squire/Getty
It's that time: the field is selected, the bracket is set, and the utter March Madness is about to begin. For heavy college basketball fans, the next few weeks will mean hours in front of the TV and the severance of some personal relationships.
So what should you watch during this year's tournament? Here are the teams, players, and phenomena to keep an eye on.
The Odds-On favorite: Kansas
The Jayhawks are the tournament's number one seed, and they're getting the best odds to win at 2/1 (only Kentucky comes close at 3/1; odds could move a bit between now and the start of the tournament).
Kansas is an experienced squad that brings depth to the table. They've got more than their share of top-notch performers with Sherron Collins, a scoring point guard who can muscle his way to the basket; Cole Aldrich, the latest in Kansas' line of gigantic, superhuman centers with pasty skin tones, a lineage dating back to Greg Ostertag; a physical beast and rebound machine in forward Marcus Morris--and, when Morris takes a breather, his identical twin Markief is waiting on the bench; and one of the two best freshmen in the nation in Xavier Henry. Kansas gets solid guard play from Brady Morningstar. These guys won a national championship in 2008; they'll try to remember how to do it again. As the field goes, Kansas appears to be a cut above.
Cinderellas and Sleepers
Cinderellas don't get predicted--they just happen. If fans saw it coming, it just wouldn't be the same thing. So, with that important caveat in mind, here are the teams that could have some space to make a run to become this year's Wisconsin-Milwaukee.
Cornell:  The Ivy League sends a team every year; rarely do they make a big splash. But this year could be different if Cornell makes a run. The  Big Red came within a couple made baskets of taking down Kansas this season, in Kansas, and statistically they're the top three-point shooting team in the tournament: Cornell has made more threes than any other team in the field of 65--304 of them on the season, for an average of 9.8 per game. Cornell faces tough first-round opponent in Temple, the best team in a solid Atlantic 10 conference and a gritty defensive squad, but look for Cornell as an appealing upset pick.
Houston: Will 2010 mark a return of Phi Slamma Jamma? Well, probably not, but Houston is making its first NCAA tournament appearance since 1992, and the Cougars would make for a feel-good winner if they can pull off a win against Maryland, the ACC regular season co-champions. Houston is coming off a win over UTEP to take the Conference USA title, while Maryland got bounced from the ACC tournament by Georgia Tech.
Siena:  Another possible first-round upset, Siena rolled through Metro Atlantic Athletic Conference play, and now faces a test against a cold Purdue team that's struggled after losing star Robbie Hummel to a season-ending knee injury. Purdue got blown out in the Big Ten tournament by Minnesota--a team that did not make the field of 65 enters the tournament as an 11 seed--by a 69-42 margin. With momentum like that, Siena could have some room to advance.

West Virginia: Bob Huggins!
It's been a while since Bob Huggins had a team that was picked to go deep into the NCAA tournament. The man has a nose for recruiting athletes, and he led Cincinnati to 14 consecutive NCAA tournaments, assembling teams in the 1990s that put on vicious, snarling dunkfests over helpless Conference USA opponents, as Huggins, decked out in a warmup pullover, crouched approvingly on the sidelines. But player arrests, NCAA rules violations and a DUI arrest ultimately closed out his tenure there, and now, after a one-year stint at Kansas State, Huggins has been back at his alma mater since taking the West Virginia job in 2007. He's in the Big East now, banging with the top teams in the county, and he's back in the ranks of the national elite.
The Syracuse Zone
While nearly every other college basketball team in the country runs a man-to-man defense as its base set, Syracuse coach Jim Boeheim runs the 2-3 zone. Almost exclusively.
This is unorthodox, to say the least, but it can be incredibly effective given the right combination of players who are running it. The last time Syracuse had a national-powerhouse team, it won the 2003 NCAA championships with Carmelo Anthony and Hakim Warrick providing some springy length in the wing positions of the 2-3 set. The Syracuse zone befuddles otherwise impressive offenses, and watching Boeheim's system in action is like watching a swarm of piranhas descend on helpless and confused guards as they work the ball around the arc in vain, trying to find angles and space that, magically, don't exist. A season's worth of strategy goes out the window.
As ESPN's Jay Bilas points out in the magazine's last issue (subscription required), the zone effectively forces other teams prepare their offenses for Boeheim's defense, flipping the usual script of defenses prepping for whatever offensive players come their way. Some people complain about its simplicity and hivemind-esque departure from the gritty individualism of man D, but Bilas points out that it's just good strategy. Basketball is about winning games.
When run to perfection, it's something to behold.
The Sabermetric Favorites: Duke, BYU
Statistical modeling has become the trend in baseball, as the term "sabermetrics" (named after the Society for American Baseball Research, or SABR) has come to signify any quirky stat or combination of stats baseball analysts can come up with.
But basketball hasn't been left out, and basketball stat-modeling guru Ken Pomeroy has placed the Duke Blue Devils as the nation's top team in power ratings. 7-seed Brigham Young, meanwhile, comes in at a surprising 7th in the overall Pomeroy Rankings.
Pomeroy takes into account whom teams have beaten and how they've beaten them to deliver a model on how likely a team is to win a game right now. He explains:

The purpose of this system is to show how strong a team would be if it played tonight, independent of injuries or emotional factors. Since nobody can see every team play all (or even most) of their games, this system is designed to give you a snapshot of a team's current level of play.

He places a greater-than-conventional-wisdom value on the Atlantic Coast Conference this year, and his Duke pick may obfuscate the fact that the Blue Devils, while an elite team, lack a true point guard--something that typically hurts in tournament play.
"They say Villanova is overrated, but Duke is overrated," I heard from the guy handing out free newspapers by the DuPont circle Metro stop this morning. "Duke is always overrated," replied the guy talking to him. Problem is, while Duke is a legitimate No. 1 seed this year, the Blue Devils have had a hard time finding anyone to overrate them as a title contender. Enter Ken Pomeroy. (FULL DISCLOSURE: I am a Duke fan. Yes, I know everyone hates Duke. It's because Duke is good. And for other reasons. No, this section is not biased.)
The Players
The freshman star: There are lots of explosive players to watch in this tournament, but here's a suggestion: Kentucky's John Wall. He's the latest one-and-done, NBA-bound freshman point guard to be brought into the college ranks by John Calipari, follows in the footsteps of Derrick Rose and Tyreke Evans as Calipari-recruited stud guards. Wall is the real deal, bringing athleticism and a nose for the basket to UK's backcourt; in his first year of college ball, he's one of the best players in the nation. He'll almost certainly turn pro after his first year playing for The John Calipari NBA Preparatory Institute, also known as the University of Kentucky, formerly known as the University of Memphis.
The best names: There's nothing like becoming a fan of a player because his name is cool. This year's meeting place of on-court talent and appealing nomenclature comes in the form of West Virginia guard Darryl "Truck" Bryant and Baylor guard Tweety Carter.
The feel-good hustle player: Duke's Brian Zoubek has a cult following among Duke fans. The 7'1" senior from New Jersey, Zoubek has been a big body for his entire Duke career--but not a particularly coordinated one. Until this season, I had not seen Zoubek dunk once in his entire college career--doubts were raised over how this could be possible for a seven-footer. But Zoubek showed up this season sporting a new beard, and, with it, some post power; late in the season, Zoubek started doing something no Duke fan expected: absolutely taking over games. It was quite the turnaround. Along with his newfound offensive touch and consistent shot-blocking, Zoubek has mastered the subtle art of setting quasi-illegal screens and not getting called for them. A slight half-lunge of the hip, and suddenly he's in the way...and Jon Scheyer is open for a jumper.
Zoubek's stepped-up game has been icing for Duke; if he plays well in the tournament, not only will Duke fans go nuts, it will make the Blue Devils a force to be contended with. (MORE FULL DISCLOSURE: I'm still a Duke fan. Would I have included Zoubek if I weren't? Maybe not. It doesn't mean he's not amazing. I hereby nominate Brian Zoubek as Most Important Player of the 2010 NCAA Men's Basketball Tournament.)
Bonus: Dick Vitale
Dick Vitale gets more excited about college basketball than any human being on earth over the age of 7 is generally able to get about anything. Watching, and listening to, Vitale can be inspiring and confusing. If Vitale still has his voice when the tournament is over, it wasn't a very good tournament.