Cuts at ABC News: What Would Peter Jennings Do?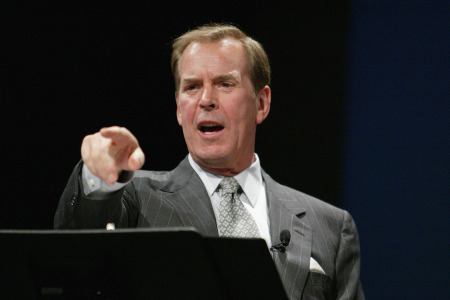 Peter Kramer/Getty Images
At a mid-town Manhattan Japanese restaurant on the rainy night of September 10, 2001, Peter Jennings, then at the pinnacle of ABC News, joined a small group of us to toss around ideas about the radical reinvention of the nightly news. A good deal of saké was consumed, and the evening ended with agreement to continue the discussion. The next morning, the World Trade Center was attacked, and that day--the coverage of which Jennings brilliantly anchored--and the continuing focus on terrorism, homeland security, and war overwhelmed any further consideration of what might be changed.
Jennings (a close friend)
died
in 2005 at the age of 67. He had a new contract with ABC that paid him millions of dollars and guaranteed the money to do at least four prime documentaries a season on subjects such as tobacco, religion, and AIDS. He was, in his way, a company man who worked for ABC his entire career. He justified taking all that money from his proprietors, the Disney Corporation, because of the enormous revenue and profits his broadcasts generated. But he also said that the big salary gave him tremendous clout with his bosses. If he were not expensive, he liked to say, the moguls wouldn't take him seriously. So the program Jennings left behind was very much like the nightly news had always been: about 22 minutes of top political and foreign stories, the scandals du jour, and pieces about social trends and consumer issues mainly provided by correspondents, supported by fully-manned production staffs.
Last month, when ABC announced what David Westin, president of the news division,
called
"a fundamental transformation that will ultimately affect every corner of the enterprise," I naturally wondered what Jennings would make of that overhaul. The immediate consequence is a projected reduction of up to 25 percent of the ABC News staff of about 1,500 through buy-outs and layoffs. In a turbulent period for all media executives, Westin has navigated skillfully between management's demands for margin and the journalists' sense that standards were being degraded by cuts and pandering to the lower end of popular taste. In his memo, Westin maintained that digital technology in the hands of multi-tasking staff and greater use of free-lancers and outside news providers would drastically reduce the costs of news gathering while still assuring material for creditable news reports on shows hosted by stars such as Diane Sawyer and George Stephanopoulos.
Clearly, Westin and his senior executives are doing their best to make a virtue out of necessity. The inexorable shift away from traditional patterns of news consumption, the advertising recession, and ABC's lack of a cable partner with an enormous flow of subscription fees means that the economics of the news division as structured would soon no longer be viable in the Disney corporate culture. The big money makers in television news these days are Fox News, CNN, and MSNBC/CNBC, which all benefit from their world-wide cable reach and the combination of subscription and advertising. The history of MSNBC is especially fascinating because Microsoft put hundreds of millions of dollars into a joint cable/Internet venture with NBC in 1996 and, as I understand it, got little out of the television deal, leaving behind a low-cost news/talk channel that now makes a fortune for NBC despite ratings that are a fraction of those for the network.
After Jennings' death and the serious wounding of Bob Woodruff in Iraq, the network's flagship went to Charles Gibson, an accomplished yet proudly old-school anchor who has now ceded the chair to Sawyer, as skilled a television personality as there is, but among the last of the Jennings, Ted Koppel, Barbara Walters, Sam Donaldson, Cokie Roberts, and Lynn Sherr generation. With this "transformation," ABC is scrambling to make the best out of what it can afford rather taking the much riskier move of actually scrapping the time-honored formulas and trying to devise something genuinely new. And therein lays the question of what Jennings (and other great broadcasters of the flush years) would do to accommodate the future if they were still in their prime.
Of all the ideas we kicked around that rainy night in 2001, the favorite was the idea of a nightly digest at 10:00 p.m., possibly syndicated via cable, produced by top news talent that would present the best of what was available from a variety of news outlets, and packaged with sophistication in a spirit that we said would be on a spectrum somewhere between The Economist and The Daily Show, which was then nowhere like the phenomenon of news, humor, and commentary it has since become. With the right "stars" -- and Jennings as a backer -- the program would appeal to the audience no longer watching the evening news and winding down by 11:00 p.m. An awful lot has changed since then, and elements of that concept are on the Internet, cable, and even networks, which buy news feeds for stories they no longer cover, like the recent earthquakes in Chile.
Given today's realities, the case could be made that networks should acquire news programming (like our incipient vision of a daily wrap-up) from independent producers the way they buy much of the entertainment and reality programs, conceding that networks are essentially distribution platforms. That is the principle that PBS uses for classic news series such as Frontline and Nova. The reconstituted Jennings production company now called The Documentary Group would make an ideal supplier of quality programming, for example. Making more with less is not usually achieved by downsizing alone. If Peter Jennings were still in the mix, it's a pretty sure bet he'd be using his accumulated clout to truly re-invent the business to which he was so devoted.