Betty White, From Snickers Ads to 'Saturday Night Live'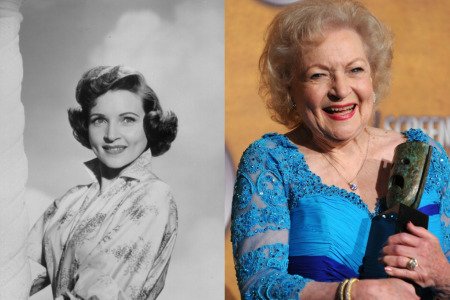 PBS, Frazer Harrison/Getty
What is it about 88-year-old Betty White that has today's audiences so captivated?
In January, White won a Screen Actors Guild Life Achievement Award. In February, she appeared in a Snickers commercial, which was the highest-rated Super Bowl ad among USA Today's 250-member Ad Meter panel. (Also in the commercial was fellow octogenarian actor Abe Vigoda, who has a dubious modern following of his own. ... He's still alive.) And today, news broke that White, who has won at least five Emmys, will host the Mother's Day episode of Saturday Night Live on May 8, after a Facebook group created with that goal swelled to 500,000 members.
So what's with all the fuss all of a sudden? Well, it can be argued that this is nothing new.
Since the beginning of her career, she has been a driving force in almost everything in which she's appeared. White hosted and
starred
in her own
shows
in the '40s and '50s and participated in game and talk shows in the '60s. NPR blogger
Linda Holmes called her
"probably the best game-show guest celebrity who ever lived," linking to the following clip as proof. In it, White
playfully participates
on the 60's-era game show
"Password,"
which was hosted by her husband at the time.
In the '70s, she had a supporting role in the classic The Mary Tyler Moore Show and later got her own show, once again.
She was one of the stars of the popular TV show The Golden Girls in the late '80s and early '90s, which has enjoyed a resurgent following among the gay community in recent years. Just last Saturday, New York's Stonewall Inn, a gay landmark known for its role in the anti-persecution Stonewall Riots in 1968, hosted "We Love The Golden Girls 3," a drag party featuring episode screenings. And, according to one 2005 study, more gays and lesbians watched reruns of the show at the time than the general population.
The exact reason for its popularity may have to do with its counter-cultural take on sex and relationships, one of the show's writers, Jim Vallely, told the Columbia News Service's Jaime Buerger in 2006. "The show said you didn't have to get married," Vallely said. "You didn't have to do this straight-world version of what growing old could be."
Still, White's appeal stands alone and has transformed as she's aged. As the narrator on an episode of A&E's Biography (here's a clip) put it: "White is like the fiesty grandmother we all wish we had."
And her girl-next-door image has a slight edge. In that same Biography clip, TV Guide critic Matt Roush explains that part of White's appeal may also have to do with the fact that she's not all "sweetness and light." Sometimes, he says, there's "a little dark undercurrent there, a little bite to what she does."
For whatever reason, she's been able to remain relevant and popular throughout the decades.
Her appearance at The Comedy Central Roast of William Shatner showcases the edgier side of White that Roush talked about. She tells the Star Trek actor that "all your friends are either dead or they hate you. To be fair, I'm a little of column A and a little of column B." The clip is short and hilarious, check it out below. (Warning: White talks about sex, in case that turns you on as it does for 23-year-old Twilight star Robert Pattinson.)