American Idol's John Park: Life on America's #1 Show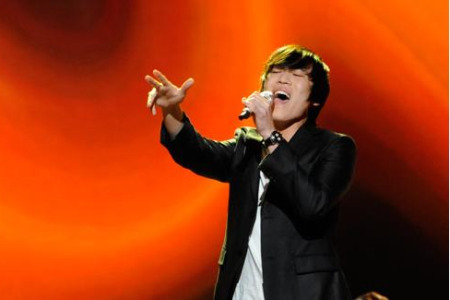 Fox
When American Idol guest judge Shania Twain complimented contestant John Park on his "great low end" on Fox in January (among other bizarre but complimentary innuendo) I couldn't help but agree. Not about the innuendo, but about the compliment.
I sang with John for a year when I was a senior and he was a freshman in our Northwestern University a cappella group, Purple Haze. So it was with great pride and only traces of envy that I watched John make it past the American Idol judges through to Hollywood (with an assist from Shania), through the next round, and the next, and the next, all the way to the Top 24 live episodes and into the top 10 guys--until he was cut. Today, as American Idol continues to whittle down its ranks, I caught up with my old singing mate to talk about a week in the life of a contestant on the number one show in America.
---
So John, you have an awesome low voice, but most males pop stars are tenors. Were you worried about this?
I always thought it was a strength that I had a low voice, because you hear it and it's immediately different. Most pop artists are tenors and they can sing high. And most of the contestants except for Big Mike are pretty much tenors. But I thought that was an advantage because I was different.
Basically anybody who sings has watched or obsessively watches American Idol. You came in with a lot of expectations. So what surprised you positively about the process?
The most surprising thing was how good the band and crew were. They were just incredible. The band is directed by Rickey Minor, who produced Mariah Carey and Whitney Houston. He's always doing an act during the Grammys. He's the bassist, but he also does keyboard. He's won multiple Grammys and he arranged our music. My voice coach was Dorian Holley, and he sang backup to Michael Jackson, and was doing prep for the "This is It" tour. That was one of the most incredible things. Having this guy help me get better.
Song choice is always something the judges are criticizing people for. So how do you guys choose songs?
Choosing songs was really hard. I want to find my own groove, my own style, a song that was well-known, but you want to make it your own, but also not change too much... there is way too much to think about.
For the Top 24 in the first rounds, they tell you you can choose any song that was on the Billboards Chart ever that was a top 100 song. So basically it's any song in the world. You make a big list of songs you'd want to sing and they clear them for you. They basically talk to the publisher and the artists and songwriters and they say its OK for us to sing it on the TV show.
Take me through the week. You choose your song. Then what?
From Thursday through Sunday you're working on vocals, doing interviews and some other events. Then two or three run-throughs with the band. They record these run-throughs and you listen to them during rehearsals, to keep the band in your head.
Some of these arrangements are amazing, I think. How do you guys pull those together?
Rickey basically just does it. He arranges everything, and it sounds exactly like the original during the first run with the band. And on about Sunday before the show, you run it. I can say let's slow it down, or lets put a reggae beat on it, or get the backups to sing on this part part. We get to mess around on stage and they do it on the fly. It's brilliant.
Sometimes it seems like the judges have seen you guys perform. Do you perform for the judges before the show?We have a dress rehearsal with the band, but the judges aren't there. Some of them watch the tapes before the live show. That's how they know, I guess.

Are you still watching American Idol?

No not really. I haven't been watching the whole shows but I've been going on YouTube and looking up some performances.

Last question, and I'm sorry if it's harsh: what was it like to lose?

The first thing was a kind of relief because at that time I was pretty stressed out. I had no idea what song I was going to do next week. I have trouble picking songs. I kind of expected it, going into that live show. I felt all the nerves and stresses relieved. I got to sing one more time, and I was like "I'm going to rip this up!" I didn't have any regrets. The first week's song choices was terrible but I really wanted to do that song on stage. Second week i thought was a great song choice but the performance could have been better. Anyway, I feel great about everything I did. It was bittersweet moment.
________________________________

Editor's note: Here's John ripping up with Purple Haze.