Is America Really Ahead in the Olympic Medal Count?
Americans following the Olympics at home have been almost as pumped as their athletes are about their record haul of medals. "I have looked (at the medal count)," Viktoria Rebensburg told USA Today, after picking up a gold medal in the women's giant slalom, "But I didn't expect I could give a medal to this thing. I never thought that would happen, so it's cool. And maybe we will win this."
The United States hasn't dominated a Winter Olympics since 1932. With 32 medals earned thus far, statistics guru Nate Silver predicts the U.S. will end the games with 34, ahead of Germany with 30, my adopted home-base of Canada with 26, and Norway with 23.
But wait a minute. The USA is a much bigger country than any of these. With 300 million-plus people it's nearly four times the size of Germany, 10 times bigger than Canada, and 60-plus times bigger than Norway.
So with the help of my statistically minded colleagues at the University of Toronto's Martin Prosperity Institute, I decided to take a different kind of look. We rated and ranked medal performance by the size of each country's population. We've dubbed this new ranking system the Winter Olympic Medals Per Capita Metric, WMPC for short, where we rank medals per one million people.

Now the results get interesting.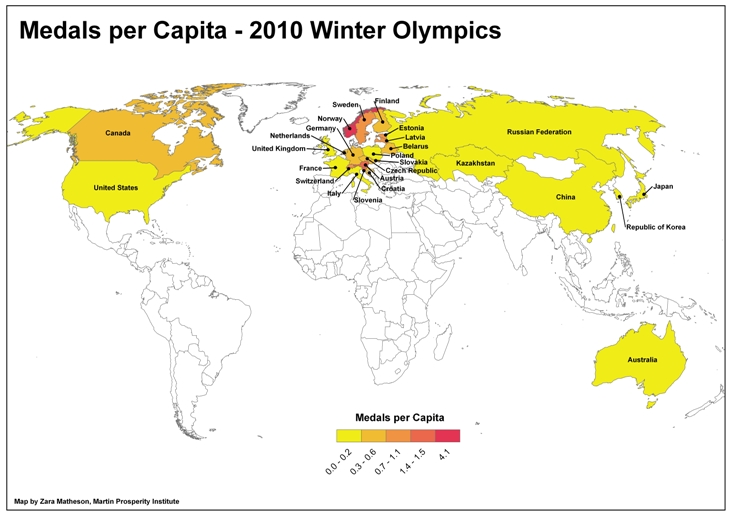 The U.S. ends up in 19th place, with roughly one medal per one million people, less than Australia and about the same as Poland. Germany ends up 14th and Canada ranks 10th with five times the take as the USA. The top finisher is tiny Norway with four-plus medals per one million of its people.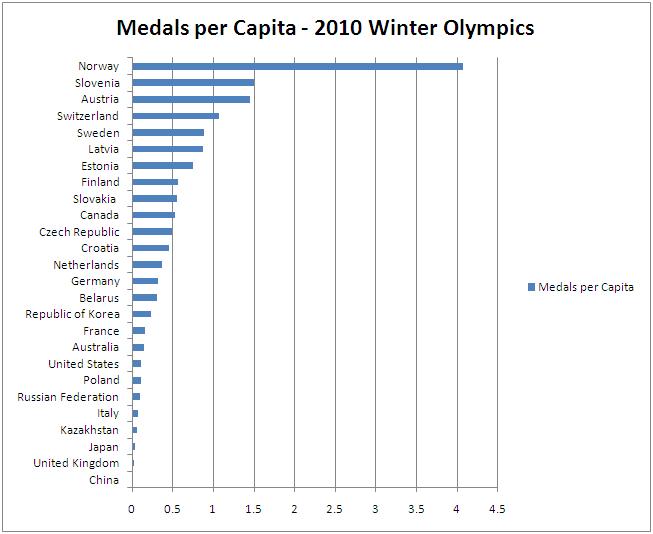 If Silver's projections hold, the U.S. will end up in 21st place by the end of the games. Norway will top the list with five medals per one million people, followed by Austria in a distant second place with 1.9. Slovenia will come in third with 1.4, then Switzerland (1.3), Sweden (1.1), Latvia (1), Finland (.9), and Canada (.8).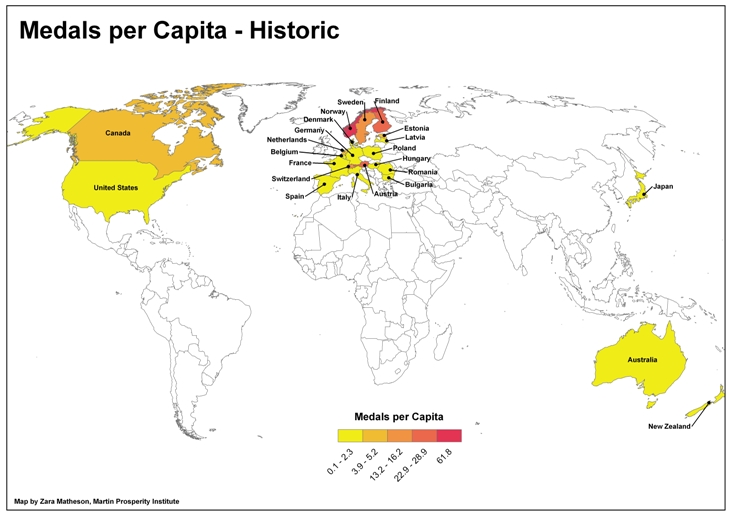 What happens when we track medals historically, going back to 1924? The United States comes in 14th, with slightly less than 0.8 medals per one million people. Norway is far and away the dominant Winter Games force, taking home a whopping 62 medals per one million people. Scandinavia, the Nordic countries, and the European alpine nations are also powerhouses, with Finland earning 29, Austria 23, Switzerland 16, and Sweden 13. Estonia and the Netherlands produce about five medals per one million. Canada produces four - still five times the American rate and eighth overall. (Excluded from our analysis are the Soviet Union and several other former Eastern bloc nations that were initially bigger countries that have subsequently broken into smaller parts.)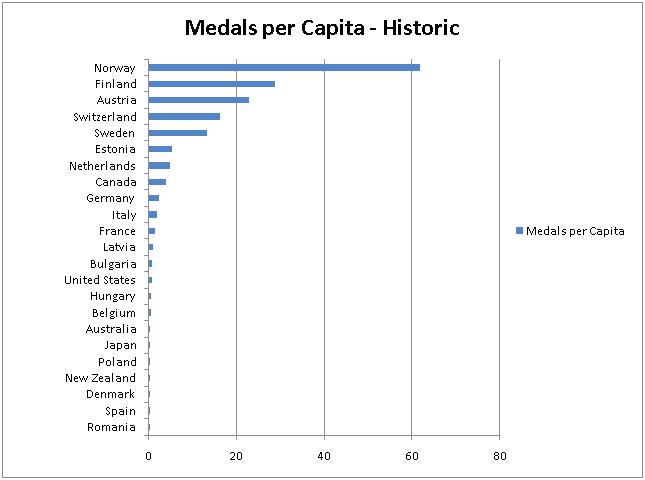 Looked at this way, the USA seems a lot less dominant than it first appears.