The good folks at Doubleday have just released this brief video introduction of my new book, which is now available for pre-order at
Amazon
,
Barnes & Noble
,
Borders
, or
Indiebound
, and will be arriving in stores in the next week or so.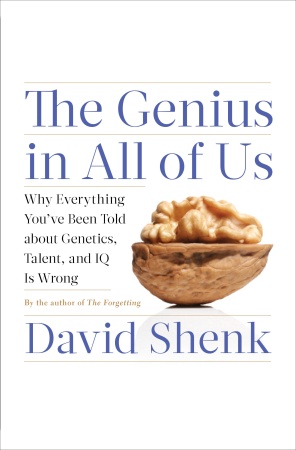 "Engrossing...revives faith in not just practice and determination but also parenting and lifestyle." 
-- BOOKLIST (*starred review*)
"Empowering...myth-busting...highly readable...entertaining." 
-- KIRKUS REVIEWS 
"The Genius in All of Us is an inspiring and liberating book. It's a powerful antidote to the genetic determinism rampant in the Age of the Genome, and an instructive guide, grounded in science, to living a more enriching life."  
--STEVEN JOHNSON, author of The Invention of Air, Ghost Map, Everything Bad is Good for You, Mind Wide Open, Emergence, and Interface Culture
"A great book. David Shenk handily dispels the myth that one must be born a genius. From consistently whacking the ball out of the park to composing ethereal piano sonatas, Shenk convincingly makes the case for the potential genius that lies in all of us. While our genes may provide a nice runway, only hard work and unwavering focus can allow true genius to take flight."  
-- RUDOLPH E. TANZI, PH.D., Joseph P. and Rose F. Kennedy Professor of Neurology, Harvard Medical School; Director, Genetics and Aging Research Unit, Massachusetts General Hospital
"David Shenk sweeps aside decades of misconceptions about genetics -- and shows that by overstating the importance of genes, we've understated the potential of ourselves. The Genius in All of Us is a persuasive and inspiring book that will make you think anew about your own life and our shared future." 
-- DANIEL H. PINK, author of Drive and A Whole New Mind
"This book, both rigorous and accessible, is a close study of the idea of genius, an investigation of popular misconceptions about genetics, and an examination of the American virtue of self-determination.  It is written with assurance, insight, clarity, and wit." 
-- ANDREW SOLOMON, author of The Noonday Demon (National Book Award Winner, 2001)
"Old fashioned beliefs, a desire to simplify and the remarkable successes of molecular biology led to an undue emphasis on the role of genes in the development of human intelligence. Environmental determinism exists too, but biology and psychology have moved well beyond these extreme positions. The importance of David Shenk's book is that he has made accessible to a wide audience the advances in the understanding of how each person develops. I congratulate him." 
-- SIR PATRICK BATESON, FRS, Emeritus Professor of Ethology, Cambridge University; former Biological Secretary of the Royal Society (UK); and co-author, Design For A Life: How Behaviour Develops 
"David Shenk freshens and transforms a familiar subject to reveal all the interacting forces and factors that make us who we are. Development is a tricky business and Shenk understands this. By focusing his considerable writing talents on this terribly important topic, he has provided parents, policymakers, and educators with a book that will help them cut through the noise and make sense of every child's development." 
-- MARK. S. BLUMBERG, Ph.D., F. Wendell Miller Professor of Psychology, University of Iowa; editor-in-chief, Behavioral Neuroscience; and author, Freaks of Nature: What Anomalies Tell Us about Development and Evolution
"In clear, forceful language, backed up by a boatload of science, David Shenk delivers a message that should be read by every parent, educator, and policy-maker who cares about the future of our children. The Genius in All of Us convincingly debunks the "genes are destiny" argument when it comes to human talent, and will force you to rethink everything from IQ tests and twins studies to child-rearing practices. Shenk's book turns Baby Mozart on his head, and will give pause--a hopeful, empowering pause--to parents who wish to nurture excellence in their children."     
-- STEPHEN S. HALL, author of Wisdom: From Philosophy to Neuroscience