'Frozen' Chills and Thrills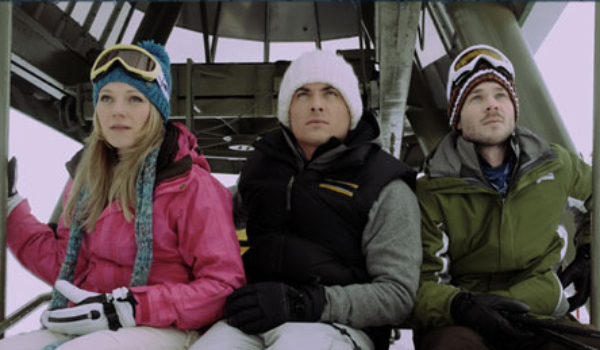 Frozen
is a tour de force, not because of exceptional performances by the actors, but rather the outstanding directing of Adam Green, who also wrote the script. The script gave Green a limited area within which to work, and he carried it off superbly.
Three friends who appear to be in their 20s or early 30s--Parker (Emma Bell), Joe (Shawn Ashmore), and Dan (Kevin Zegers)--go skiing for a weekend at a New England resort. When the slope is about to close due to inclement weather, they convince the chair-lift operator to allow them to take one more ride. He agrees, and the three begin their ascent up the mountain.
On the way up the slope, the lift stops running. The groundskeeper has changed, and not knowing the three are on the lift. The new attendant has turned off the power. Now the tour de force. The director was able to captivate the audience while the three young people are, in effect, held prisoner one hundred feet above the ground while a wolf pack below waits for them to fall.
Apparently, this is not a film for everyone. At the 3:30 p.m. show that I attended two days after the movie opened, there were only six people in the audience. However, I would recommend this picture to you. I was riveted to the screen as these three foolish people suffered the consequences of their behavior. In her New York Times review, Jeannette Catsoulis wrote: "A minimalist setup delivers maximum fright in 'Frozen,' a nifty little chiller that balances its cold terrain with an unexpectedly warm heart."
Photo courtesy of Anchor Bay Films