Sarah Palin, the Book Business and the American Dream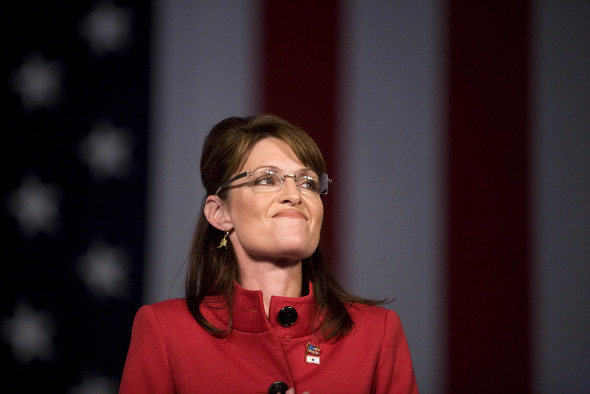 Sarah Palin's Going Rogue: An American Life is a smash. It sold more than a million copies in the first two weeks and heads into the Christmas peak with enough momentum to anoint it as probably the best selling nonfiction book of the season. Considering that the contenders include the late Senator Edward Kennedy, Mitch Albom and Jon Krakauer, two multi-million copy masters of narrative writing, and Fox News' Glenn Beck, the current superstar of rabid right-wing rhetoric, Palin has bested an impressive field. All concerned: Palin, her publisher HarperCollins, and her agent, Robert Barnett (who she shares with Kennedy, Barack Obama, the Clintons, and George W. Bush), all deserve kudos for pulling off a blockbuster.
The book itself is a matter of taste. If you like Palin or what she represents, the book will reinforce that feeling. If you think she's shallow and defensive, the book will certainly support that conviction, but why then would you waste time reading it? Here is a shameless plug for a full, fair, yet tough-minded account of Palin's life and career: Sarah from Alaska: The Sudden Rise and Brutal Education of a Conservative Superstar by Scott Conroy and Shushannah Walshe, published by PublicAffairs.
What interests me here are some of the lessons that the Palin book provides about publishing: speed-to-market, pricing, means of delivery, and promotion. They offer state-of-the-art insights into the book trade at its most commercial end at the start of another decade.
Speed-to-Market: Until she resigned as governor of Alaska in the summer, Palin's book was proceeding slowly toward publication next spring. With her schedule now open, she worked full-time on the manuscript. From all accounts, this is her book. It is not insignificant that Lynn Vincent, the writer, doesn't get an author credit. With a manuscript in hand, the publication date of November 17 was announced on September 29. It was considered essential to be in stores ten days before Thanksgiving. The production and distribution process moved at breakneck speed. Among Palin's critics, fact checkers have found some sloppiness. An index was scrapped. But the timetable was met and worked. Palin's kickoff interview with Oprah Winfrey was a triumph of television ratings, and sales took off.
Pricing: The list price of the book is $28.99. But I'm guessing that only a tiny portion of the copies were sold for that amount. Wal-Mart set off a price war with the book and a few other big titles, driving the price as low as $9.00 (the current Wal-Mart price is $14.49; Amazon's is $14.50). Palin was a beneficiary of Wal-Mart's assault on Amazon's surging dominance of online retailing. HarperCollins sold the book to the retailers at standard discounts; the retailers then turned the book into a loss leader. In the longer term, the trend to driving down the price of books is ominous for authors and publishers. The almighty retailers are bound to tell publishers (as they do all their vendors) that consumers want lower prices and the retailers will no longer accept a loss of their margin. At a significantly lower price, HarperCollins would find it much harder to recoup the advance Palin received, which seems to be about $5 million. This battle over pricing with retail giants will go on, but that's not going to be Palin's problem.
Means of Delivery: The most important innovation of the Palin roll-out was that the e-book was withheld until after Christmas. The staging of electronic release to protect hardcover sales is an intriguing element in the understanding of how to market digital books. HarperCollins apparently concluded that Going Rogue was not a natural book for the Kindle and Sony Reader audience, so any loss of sales would be small. Going forward, there doubtless will be other examples of publishers favoring higher-priced version of their books instead of releasing all formats simultaneously. (Speaking of Sony, a plan to puts its reader into independent bookstores before Christmas ran aground over terms. This is not good news for those who believe competition is essential if the e-book universe is not to be overwhelmed by Amazon's Kindle.) The audio version of Palin's book, which she reads, is abridged and has sold only about 10,000 copies so far. Clearly the Palin constituency wants her book as an artifact in the time-honored way.
Promotion: The Oprah Show and a session with Barbara Walters were the major media appearances. The core of the promotional strategy was a "bus tour" of the heartland, where Palin and her advisers knew they would get the best reception. The HarperCollins Web site lists the schedule for December 3-10, including stops in Arkansas, Oklahoma, Texas, Minnesota, Colorado, Utah, Nevada, Virginia, South Dakota, and Idaho. Palin and her entourage will be flying on a chartered jet to these stops, and I assume the bus ricochets from place to place as much as possible. This looks like an extremely expensive way to promote a book. It has all the trappings of a political campaign, which it also is. Who is paying for the plane, bus, and accommodations has not been disclosed. One way or another, it is almost certainly not coming out of Palin's pocket or projected earnings. The scale of Palin's tour means that extraordinary efforts had to be made on logistics. Palin has a fan base, but they still would have to be turned out to buy the book. The velocity of sales is a reflection of how much care must have gone into ramping up the crowds and seeing to it that they left satisfied, meaning, among other things, that enough books were available at every signing.
Sarah Palin is, at least, a meteor in the American celebrity stratosphere. Whether she'll last and in what form is a subject for debate. This much is clear: she and the book business showed they could handle the demands of a full-on national roll-out. And whatever else Going Rogue has done, it has made Sarah Palin rich.
(Photo: Mark Hirsch/Getty Images)