It Really Isn't 'Complicated' At All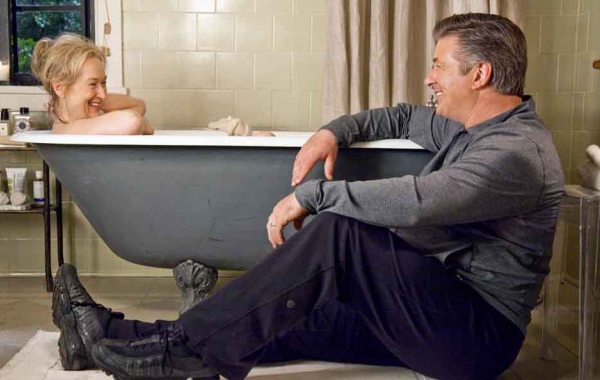 It's Complicated is similar to a television sitcom. Regrettably, while amusing and worth seeing, the film doesn't approach the cleverness in dialogue or situations that the Seinfeld series did or the current Curb Your Enthusiasm show does, both co-created and produced by Larry David.
The situation involves Jane (Meryl Streep), a famous chef and restaurateur, who lives in a beautiful Santa Barbara home which she is expanding.  Adam (Steve Martin), the architect hired by Jane to oversee the renovation, is very attracted to her.  Jane has been divorced for 10 years from Jake (Alec Baldwin), who is now married to Agness (Lake Bell). Jane and Jake have three children. One of their daughters is engaged to Harley (John Krasinski) whose performance, including wonderful facial expressions, contributes a lot to the film.
The heart of the script involves the falling in love once again of Jane and Jake and the fulfillment of their sexual desires, which are as hot as any two college kids away from home giving in to their raging hormones. One delightful scene involves a discussion among Jane and her girlfriends. Not knowing that she is once again involved with Jake, they discuss the effects on women without a lover.
Alec Baldwin, who is a consummate actor, looks as though he has gained 75 pounds. He shows his naked backside and belly in the film which, for me, emphasized his disregard for his health and appearance. Streep is as beautiful as ever.
The movie won't take you to the top of the mountain or leave you with memories and references for discussion, but you won't be bored if you see it. Without compromising my standards, I can give this film an unqualified plus.
Photo courtesy of Universal Pictures