Colbert Dishes On Bush, Glenn Beck, and MSNBC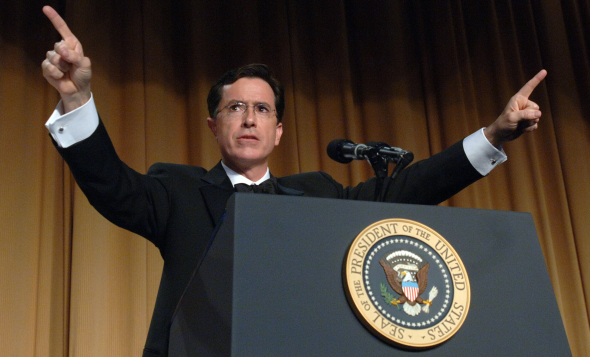 When Chicago's Second City comedy troupe held a weekend-long 50th anniversary bash, the obvious highlights were Friday and Saturday shows with Martin Short, Steve Carell, Bonnie Hunt, Jim Belushi, George Wendt, Eugene Levy, Andrea Martin, Catherine O'Hara, Harold Ramis, Shelly Berman, Rachel Dratch, Robert Klein, Jack McBrayer and tons more.
There were also panel discussions, including one in which alumnus Stephen Colbert and writers on his "The Colbert Report" held forth. Along the way, they revealed what didn't get said at a controversial Washington engagement, underscored the impossibility of parodying Glenn Beck and wondered just a bit about the comedic forays of serious-minded news hosts like Keith Olbermann and Rachel Maddow.

With a tape of the hour-long session from Second City, I just watched as Colbert explained the creation of the "well-intentioned idiot" he portrays. ("The character really means well. He's willfully ignorant of what you know and care about. He's not mendacious and stupid. He's innocent and stupid, like a puppy who's urinating on your politics, not destroying your politics.") But a question-and-answer period inspired the best exchanges, starting with one on Colbert's appearance at the 2006 White House Correspondents' Association Dinner.
In character, Colbert created apparent dyspepsia among some portion of his Washington A-list political and media audience. The dinner draws more than 2,500 and is a very curious function, underscoring the depressingly incestuous relations between the political establishment and a few too many journalists, some of whom so deeply crave the acceptance of whoever's in power. It's morphed from a rather staid gathering into a smoochy celebrity gang bang and sucking up to politicians, with media organizations inviting both people they cover and famous actors and other pop culture stars as guests, and doing so with competitive fervor in their search to look hip.
(Full Disclosure: As Chicago Tribune Washington bureau chief, I finally succumbed to virtual Abu Ghraib-like pressure from colleagues and scraped our traditional resistance to this silliness, inviting "Law And Order" stars Jill Hennessy and S. Epatha Merkerson in consecutive years. And I had a fine time. But I did exhibit limits, and Patton-like decisiveness, in telling one famous actor, who can afford to buy much of the construction debt in Dubai, to take a hike after he insisted that I also fly his girlfriend from Seattle and put him up under a pseudonym at the Willard Hotel).
That year brought President George W. Bush to the dais, with his discomfort obvious as Colbert's right-wing character theatrically tried to offer support. Colbert's show host said the two of them weren't "brainiacs on the nerd patrol." He talked about some Bush White House staff changes as "rearranging the deck chairs on the Titanic." He cited Bush's declining poll numbers and said, "We know that polls are just a collection of statistics that reflect what people are thinking 'in reality.'"
The Internet was abuzz for days, with some mainstream media outlets then criticized for catching up with the story very late. In Chicago three and a half years later, Colbert left no doubt that his recollection of the night is sharp, starting with correcting a questioner about the dinner's date.
"April 29, 2006," he said at the Second City reunion, eliciting laughs. "I still wake up with a pain in my shoulder."
Colbert said he was genuinely surprised that he'd been invited to the affair and, with his colleagues, "worked very hard on it and the actual performance." It was an honor, a rare opportunity. "The actual performance was enjoyable for me. I really liked the jokes and was eager to do it."
Tom Purcell, a Second City alum and the television show's co-executive producer, explained the tactical rationale: Bush, he said, was the typical "Big Man" one might find in innumerable institutional settings. "We thought it was the Big Man. He hires somebody to make fun of him, and he chuckles. You see it at office Christmas parties. You say the boss is so cheap that....and he laughs and everybody laughs. That's what we thought we were doing. They wouldn't have brought us in if they didn't know what jokes we did."
Of course, in hindsight, that didn't seem exactly true, suggesting slightly insufficient due diligence by the association.
"We dipped a wick in a can of grape soda, threw it against a wall and little did we know the entire room was soaked in gasoline," said Purcell.
Added Colbert: "We felt like we were throwing joke Molotov cocktails, and then the room burst into flames." Throughout the panel discussion, gently moderated by NPR's Peter Sagal, one was reminded of one of the elements separating comic pros, like Colbert and colleagues, from your "hilarious friend" at the office and other funny amateurs, namely the Colbert crew's lightning speed. It's the difference between college football and the NFL.
Colbert disclosed that he did substantial self-editing upon looking at the president and discerning that he wasn't ecstatic. He had planned to play off Medal of Freedom awards Bush had given former CIA Director George ("It's a slam dunk") Tenet and former Iraq administrator L. Paul Bremer; joshing about how Bush was clearly giving awards to everybody in sight.
"'But nobody gives this man an award,'" Colbert recalled as the thrust of the riff he scrapped. "'That ends tonight. I'm going to give the highest honor I can give....a certificate of presidency.'"
It would be akin to "something you get from The Learning Annex for taking a course. 'I, Stephen Colbert, acknowledge...'" Colbert looked at Bush and said to himself, "I'm going nowhere near this."
When the dinner was over, "I don't think I'm dying. I go to sit down and nobody's meeting my eye. Only [the late journalist-turned-White House spokesman] Tony Snow comes over and says I'm doing a great job." Then Supreme Court Justice Antonin Scalia came his way and told him he was brilliant.
"I said, oh, s-, don't let me like Antonin Scalia!"
Wondering what exit he should use, Colbert recalls being approached by actor Harry Lennix, whom he knew from their days at Northwestern University. Colbert indicated that he sensed some of the audience wasn't happy. "And he [Lennix] said, 'f- these people."
As for Glenn Beck, the panel discussed the challenge of maintaining a separation between reality and satire when so many TV pundits are simply, premeditatedly over-the-top.
"I said, 'Let's start doing some Glenn Beck stuff but in praise of Glenn Beck,'" said Colbert. "But every time we do one, he will have done something dumber. He raised the stupid bar and now it's nearly inapproachable."
"I worry that if we use that as a model....if somebody doesn't believe what they're saying, it's very hard to out-stupid them," said a decidedly analytical Colbert. "Because then there's no place to sink our hook into, there's no mountain to climb there. I can't climb Glenn Beck since there's nothing there."
The session ended on a provocative, if not persuasive, final note; exploring the seeming impact of Colbert and Jon Stewart's "The Daily Show." In particular, Colbert writer and Second City alum Peter Grosz argued that many of the Stewart and Colbert tropes have been appropriated and ham-handedly inserted into "real news."
"I mean Olbermann and Maddow do it all the time," said Grosz. "They're like, 'We can be really funny and we can do really serious news.' And it's like you really, really can't. You can do whatever you want. But those are tactics that belong to 'The Daily Show' and Colbert."
Hmmmmm. I'm not sure about that one, especially given the rich commentary-comic traditions of radio (Rush Limbaugh as perhaps the most adroit practitioner of the past 20 years) and television. As an occasional MSNBC contributor, I'm not an unvarnished neutral. But I do wonder if cable TV news channels, amid wicked competition and in pursuit of entertaining fare, have blurred lines to the point that only a declining minority probably truly differentiates among fair-minded journalists, ideologically-driven pundits and even professional jokers dabbling in politics.
And the expectations of cable viewers may now be different than those viewers of traditional broadcast news. The backdrop and context in which Brian Williams or Katie Couric operates are different.
Meanwhile, and maybe more important, a dwindling minority seems to differentiate between the New York Times and the Onion. Or between Williams and Bill O'Reilly. A dwindling minority seems to appreciate accuracy and endangered species such as newspaper copy desks. A dwindling minority understands the gulf in standards and professional expectations at Bloomberg News and Gawker.
Yikes.
And that's, ah, The Word from me.
Photo credit: Pool-Getty Images