A Few Words About Andy Rooney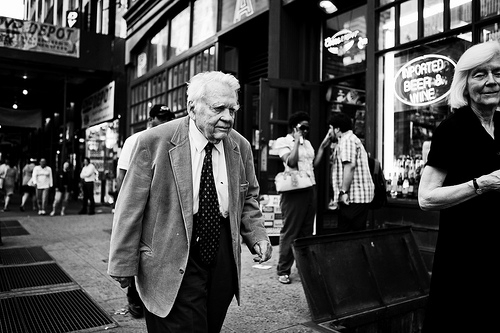 Andy Rooney turns 91 on January 14, 2010. For 31 of those years he has delivered the closing essay on CBS's
60 Minutes.
These pieces are the main reason Rooney is so famous. Walk (actually shamble) through an airport with him, and everyone who is not a foreigner offers a smile, a nod, or a friendly comment. But celebrity is not Andy's own measure of his professional worth; writing is. He has published sixteen books, and for the past two decades, I have been his publisher.
His latest book is called Andy Rooney: 60 Years of Wisdom and Wit. It is a compilation of writing done since his first book, Air Gunner (co-authored with Bud Hutton), was published in 1946. In a review in the New Yorker, Edmund Wilson, among the most respected literary critics of the era, said of Air Gunner: "The first piece of writing so far which has really given me any idea of what it is like to operate a bomber . . . full of intimate observation of how people speak, feel and behave." The selections for the new collection were made by Susan Bieber, Andy's gifted producer at 60 Minutes (really, his trusted aide-de-everything), and Morgen Van Vorst, a PublicAffairs editor. We asked Brian Rooney, Andy's son, who is an ABC correspondent, to write the introduction: "If your parents live long enough," he wrote, "you get to know them more as people than parents. I have come . . . to appreciate . . . that (my father) has stood for something all his life when so many people have not, and that while he became rich and famous, it could just as easily have gone the other way and he would not have done anything differently. I learned that a writer lives by his words."
Andy has written hundreds of thousands of words in his television essays and syndicated columns. The majority of them contain his opinions and impressions about the world around him. And yet, amazingly, outside the limelight, Andy's life has been very private, devoted to his family, some very close friends (his best friend was Walter Cronkite), and a few older colleagues. Aside from Brian, Andy has three daughters--Ellen and the twins, Emily and Martha. His first great grandchildren, also twins, were born this year. For 62 years, until she died in 2004, Andy was married to Marge. She was perfect: beautiful, practical, and droll. So is Andy's companion of recent years, Beryl Pfizer, whose career in television included a stint in the 1950s on NBC's Today show.
Among his books,
My War,
an account of experiences as a
Stars and Stripes
reporter in World War II, is probably his favorite. It is as close to a memoir as he'll ever write. It was published in the mid-1990s, and we were both disappointed that it didn't get more attention. A few years later Tom Brokaw wrote
The Greatest Generation,
a huge bestseller that featured Andy and his wartime experiences. So we re-issued
My War
and sold twice as many copies as the first time. But I still wish it had been recognized for its superb writing. For all the acclaim television provides, putting words together well is what matters most to Andy. "If I was forced to choose between appearing on television," he once observed in a column, "and writing the words to appear on paper, I wouldn't hesitate for a second. I'd give up television."
Maybe it is because Andy puts writing in a different category from performing that explains our business relationship. About the time PublicAffairs was founded in 1997, I ran into Andy on the street. Our first books together had been at Random House and it had been a while since I'd seen him. "Know any good publishers," he asked? "Let me think about it," I replied, "and get back to you." I did, with a proposition that Andy publish at our fledgling imprint. The deal was a joint venture. We'd split costs and proceeds 50-50. Our agreement was a single-page letter; no contract in the conventional sense; no agent or lawyers fees; a pact between friends. So every six months, as the royalty cycle concludes, a couple of us from PublicAffairs go to Andy's office on West 57th Street and bring him a check. The ritual is that he opens the envelope and examines the contents with a magnifying glass. I hope Andy will forgive this indiscretion: his earnings are now over the seven-figure mark.
Andy's longevity at
60 Minutes
is a tribute to what he does for the program: maintain its long-term fan base. Big time television is not sentimental, and if surveys did not support audiences' attachment to Rooney, he'd have been long gone. One of these days Andy will do his last commentary, and hopefully the send-off will be worthy of his accomplishments. I can attest that Andrew A. Rooney (his book byline) is a man completely true to straightforward principles of integrity, candor, and loyalty where it counts, combined with a gift for conveying his beliefs in words. From the time he won a high school prize, Andy says he wanted to be a writer: "I wish I was a better one ('were a better one' if you prefer) but I enjoy being the one I am." Andy, we've enjoyed it too (also, if you prefer).
Photo Credits: Flickr User Stephensonnn, don.wing45, dno1967